Dining
Mean Cup at Central Market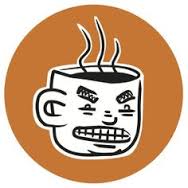 Get your mean cup of coffee at Central Market.
Those who are familiar with Mean Cup would agree, it's hard not to crack a smile when you think about getting your own "mean cup of coffee" there. It could be the characteristic stickers plastered all over the espresso machine, the cash register, the walls, and occasionally the employees that catch your eye. It could be the conversations one overhears while waiting in line, "Oh, I definitely agree that people should wear pirate costumes more often to market ". Maybe it's just the knowledge that as soon as the next person in front of you is taken care of, you will be a few short moments from the highlight of your morning, a steaming cup of Chaider (a hot chai apple cider beverage that is absolutely fantastic).
The Mean Cup is owned and operated by Clark Schenck. His loyal staff, the charming trio of Mike, Robin, and Vogan, (pronounced Matt) have all been there for over five years and are as much a part of the stand as the espresso machine. Clark himself is there at random times during the day and occasionally his wife, Hilary, who teaches English as a second language at Hamilton Elementary, pitches in as well.
The Mean Cup sells made-to-order coffee and espresso beverages, frozen and iced beverages, loose leaf teas, and bulk coffees. Local favorites are the Smokin Joe blend, a dark roast, and Snickerdoodle or Mochadoodle which are both flavored.
For an artistically prepared mean cup of goodness, stop by and see the gang at Mean Cup. The caffeine and laughter are both infectious and are guaranteed to improve your mood.
More Lancaster City

Dining