June 3-6, 2021

Red Rose Run

The 45th annual Red Rose Run will be a virtual 5-mile race taking place over four days, June 3 – 6, 2021. Anyone can take part in this longtime, community event whether locally in Lancaster or beyond! Participants can run or walk and will have the option to submit their times for consideration of awards.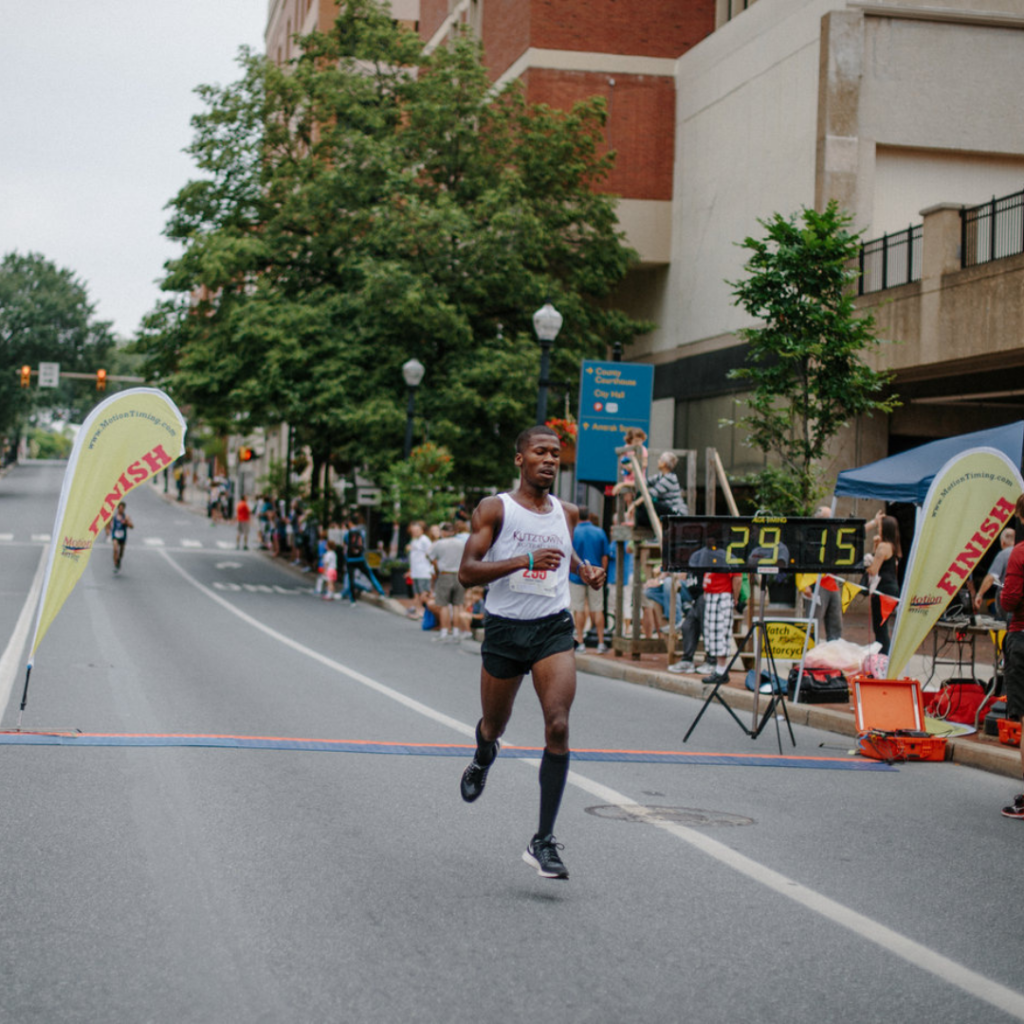 Get your heart racing!
Registration is open, register on RaceRoster.com
Packet & T-Shirt Pick-UP
There will be an opportunity to pick up t-shirts in person on Friday, June 4, 12 – 4 p.m. in Penn Square, outside the Lancaster City Visitor Center. Race participants and those passing by can enjoy music by DJ Edge. All other shirts will be mailed following race completion on June 6.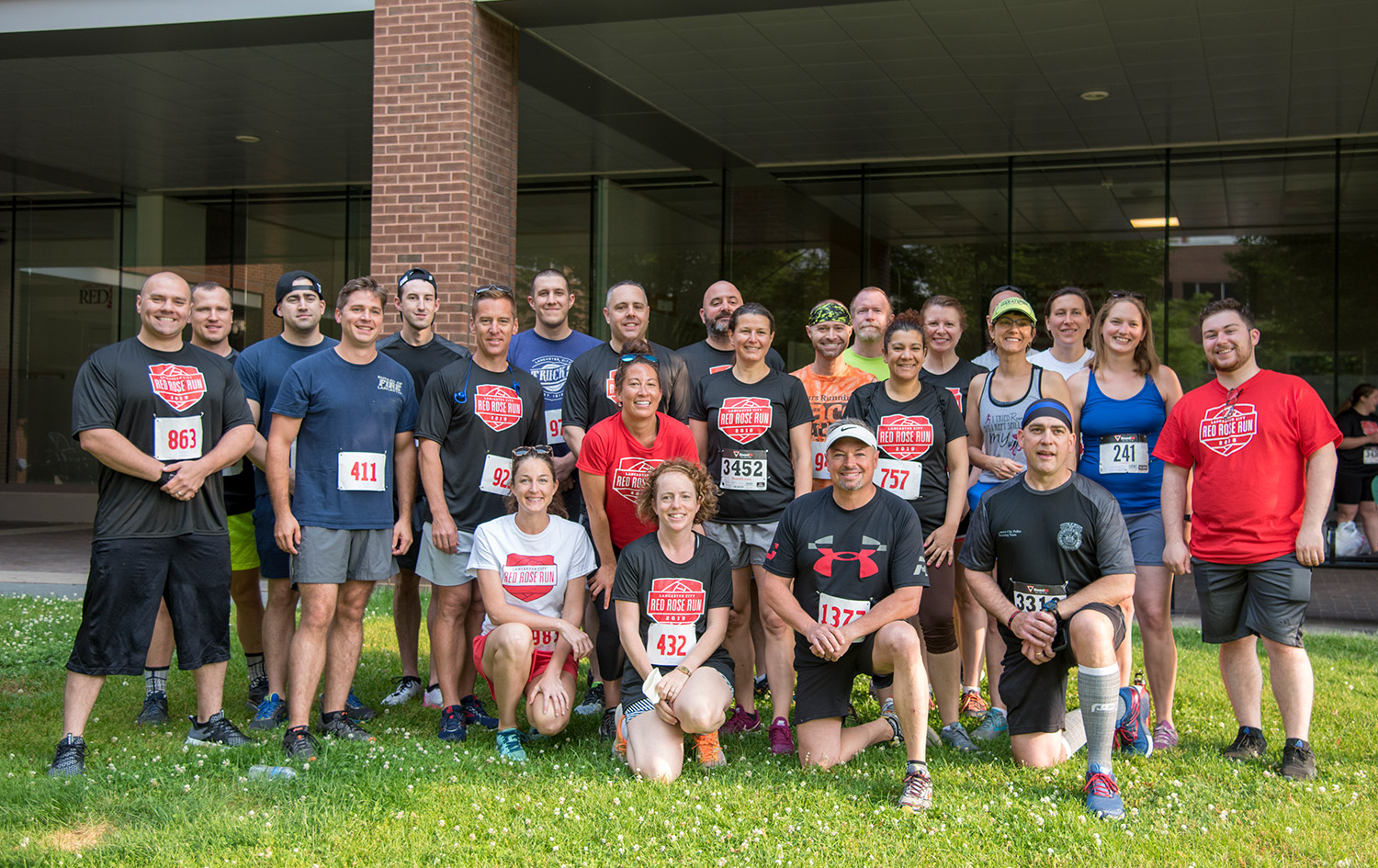 Save the date for the 2021 Virtual Race!
June 3 – 6, 2021
We've Gone Virtual!

Choose Your Course

This new format allows participants to get creative with their 5 mile routes. This year participants of all activity levels are invited to run or walk the race either in one continuous route or broken up over a few days. Here are some course options for those local to Lancaster.
Course #1: The Official Red Rose Run Course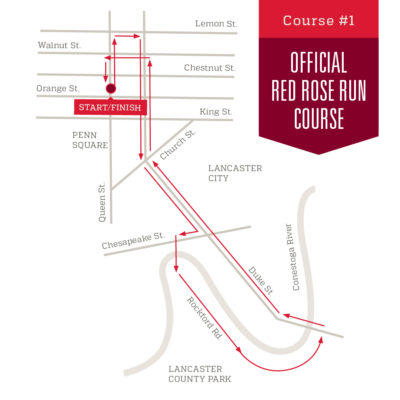 North on Queen Street, East on Lemon Street, South on Duke Street, West on Chesapeake Street, 1st block take bridge over Conestoga River then SE on Rockford Road, North on Duke Street, West on Walnut Street and South on Queen Street to finish.
Course #2: Conestoga Greenway Trail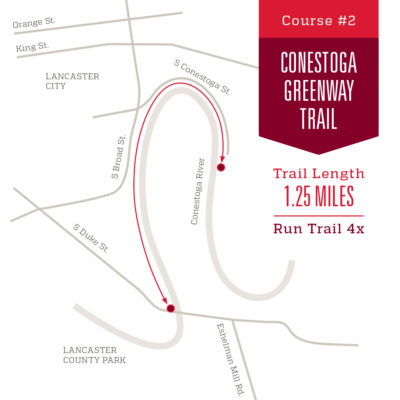 The trail is about 1.25 miles long. Doing the entire length four times will achieve your goal. There are multiple parking options available along the trail. The trail has end points on South Duke St and also at S. Conestoga Drive.
Course #3: Long's Park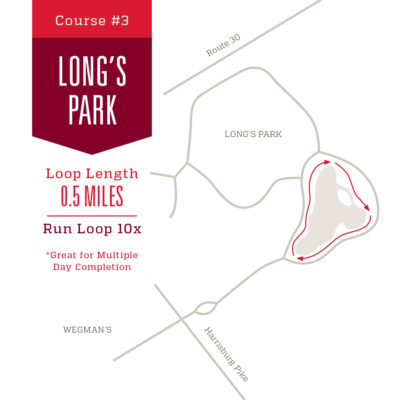 The lower loop around the pond is approximately 0.5 miles long. Ten loops will match the 5 mile goal. This is an excellent option for individuals seeking to complete the distance across more than one day.
Course #4: Northwest Lancaster County River Trail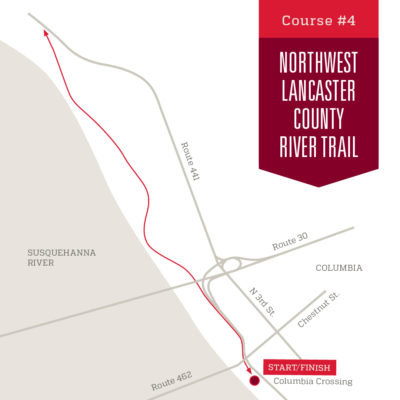 Starting at Columbia Crossings (41 Walnut St., Columbia, PA 17512), follow the trail to the 2.5 mile mark and return.
Course #5: Lancaster County Park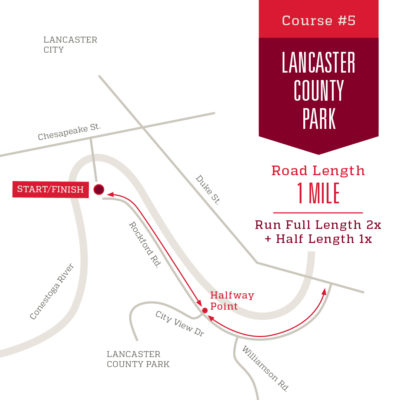 Rockford Road, on the North side of the park is about 1 mile long. Convenient parking is available from the E. Strawberry Street entrance off Chesapeake Street. Starting at that end, run to the park exit at S. Duke Street and return on the same road. Each loop will be 2 miles. For the final mile, run the same course, but turn around a City View Drive and return to the start.
Course #6: Market Run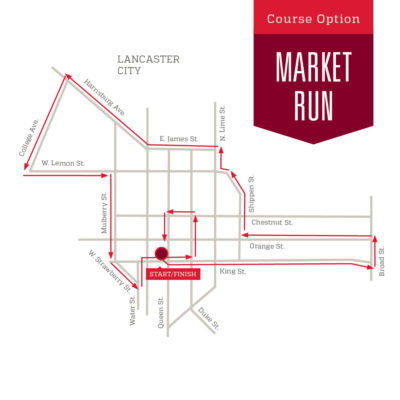 This course begins and ends at Central Market! Get to know Lancaster City and some of its neighborhoods with this 5-mile course. First head east on E. King Street, then head into the Northeast neighborhood, then to the Northwest, down to the Southwest on W. Strawberry Street, then back into Downtown. Feel free to grab a market treat after the run!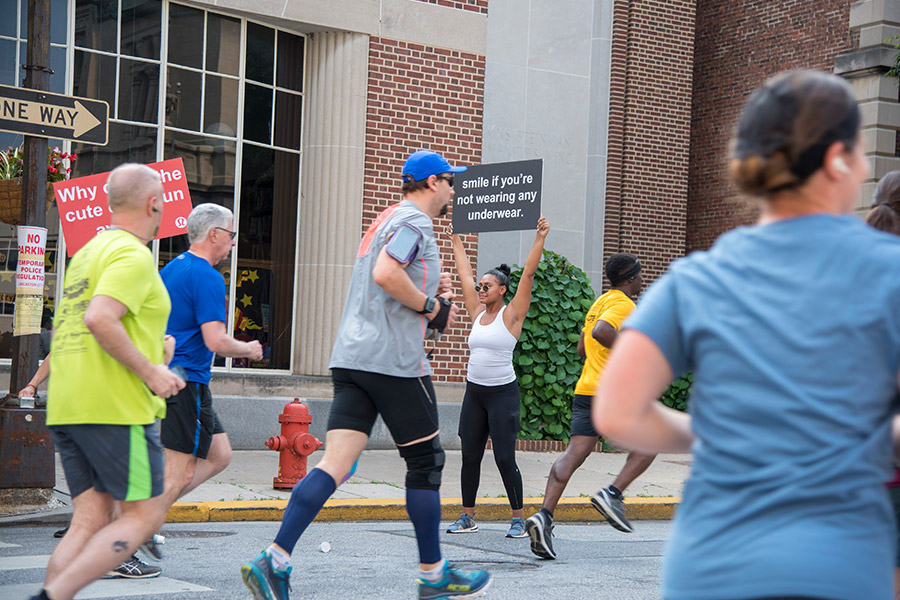 Prizes & Categories
1. Male Overall Winner – 1st, 2nd, and 3rd place will be awarded
2. Female Overall Winner – 1st, 2nd, and 3rd place will be awarded
3. Team of 2 Overall Winner – Best combined times for team of 2 awarded
4. Lancaster Residential Winner – Best time in Lancaster County
5. PA Residential Winner – Best time in Pennsylvania (Non-Lancaster County)
6. Out of State Winner – Best time for non-PA resident
7. Furthest Away Participant – Participant Furthest Away from Lancaster, PA
8. Service Member Winner – Best time for a Veteran/Active Military
9. Largest Team Completing the Race
10. First to Submit Time for Fully Completed 5-Mile – must submit photo proving date, distance, and time
11. Most Unique Run Location – send a photo to LOOP@cityoflancasterpa.com, staff at the Lancaster Office of Promotion will vote on this category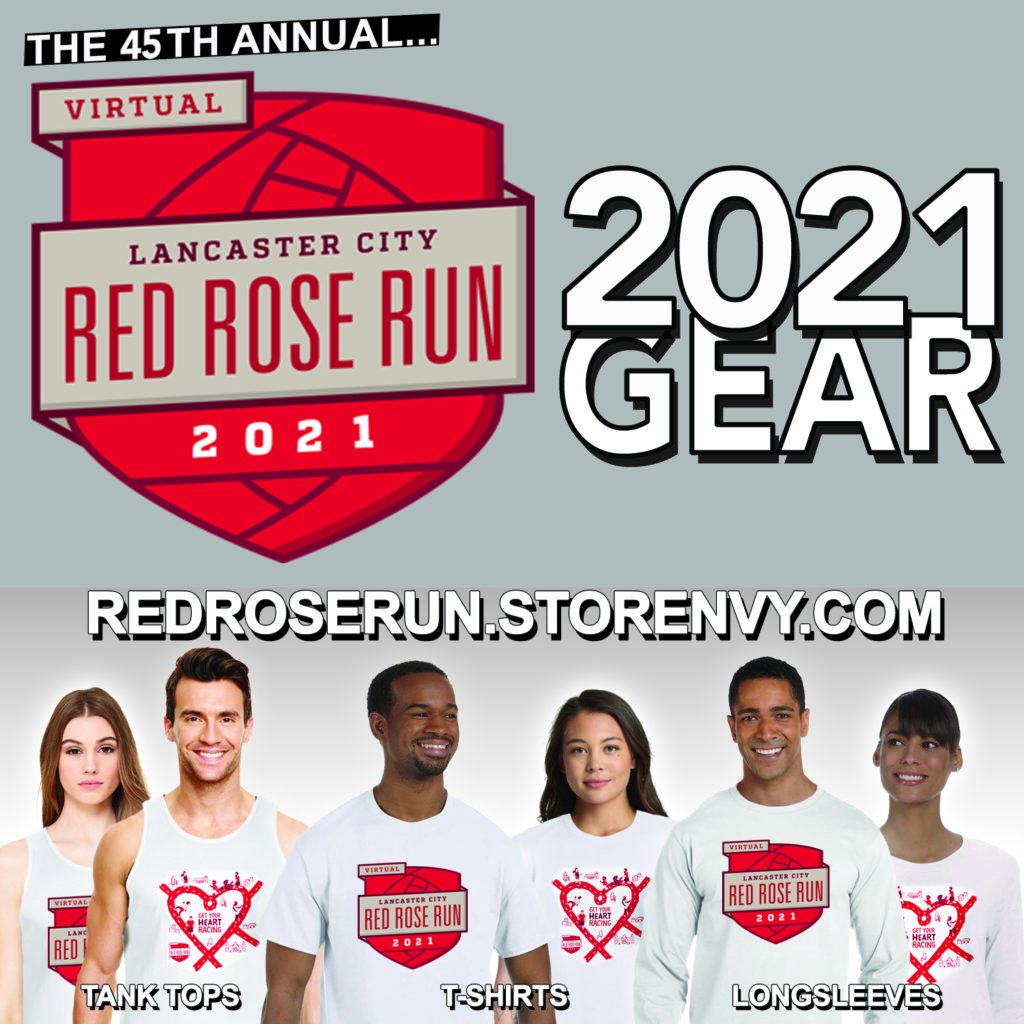 2021 Gear
While the Red Rose Run 2021 t-shirt is included with registration, we wanted to offer more gear options to enjoy. Check out the Red Rose Run shop!
Frequently Asked

Questions
What is a virtual 5 miler?
A virtual 5-mile run can be completed virtually anywhere! Participants can run/walk their 5 miles any time between June 3 – 6, anywhere you choose. You can run, jog, or walk on the road, a trail, or on a treadmill. You get to run your own race, at your own pace, and time it yourself.
When does the 2021 Red Rose Run Virtual 5 Mile Run take place?
The race begins on Thursday, June 3rd, and should be completed on or before Sunday, June 6th, 2021. You can upload your results once you complete the race. Organizers will provide details on how to submit your results closer to the race dates.
Who can participate in the virtual 5-mile run/walk?
We encourage everyone to participate. All fitness levels and ages are welcome to join us. We would ask that if your child (under 18) wants to enter, you as the parent/guardian must complete the online entry form on the child's behalf. Just get out there and run or walk, whatever works for you!
Will there be a t-shirt?
Yes! This year there will be a t-shirt included in registration.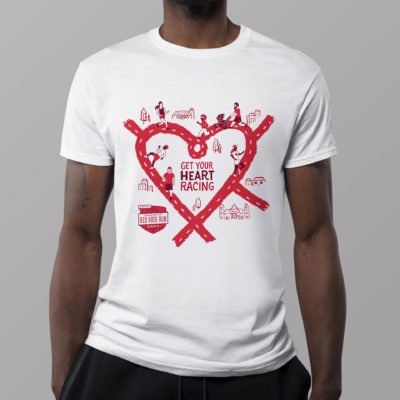 Do I need to complete the 5-mile distance in one go?
To be considered in contention for the overall winner categories you will need to show proof of completing the full 5-mile distance in one go to qualify. If you are not interested in winning the overall winner categories, you can split your race over a few days and they can be in any amount of distance you'd like!
What's needed in order to submit my race results?
You must submit your results to be counted as having completed the 5-mile run/walk distance. Closer to the race week, we will share the electronic form for you to submit your time. For the serious competitors, we request submitting proof of your time and distance with a picture of your running watch (showing date), or screenshots from any of the popular running apps including Strava and Nike Run (you cannot be considered for a top finisher without this proof).
We also welcome you to upload any selfies, short videos, or other creative posts so we can share with others and make the race as interactive as possible so, please help us share our efforts and continue to raise awareness in our community. Photos and videos will lift everyone's spirits! Share with hashtag #RRR2021
How will I know if I am getting a special category prize? When will I get it?
Organizers will email participants to let them know what they will be receiving. Items will be shipped after we have time to process and determine the winners and funds raised. We expect to send the awards via U.S. mail.
Will there be race bibs?
Not for each individual runner. A virtual race bib can be downloaded here.
Where can I view the full race results?
At the end of the Virtual race, results will be posted on MotionTiming.com. We will send an email to all participants once the results are posted.
Where do the proceeds of the Red Rose Run go?
I need some playlist inspiration, have any music recommendations?
Previous Results
2021 Red Rose Run Results
2020 Red Rose Run Results
2019 Red Rose Run Results
2018 Red Rose Run Results
2017 Red Rose Run Results
2016 Red Rose Run Results
2015 Red Rose Run Results
2014 Red Rose Run Results
2013 Red Rose Run Results
2012 Red Rose Run Results
2011 Red Rose Run Results