March 27, 2018

Red Rose Run Training Plan: Week 1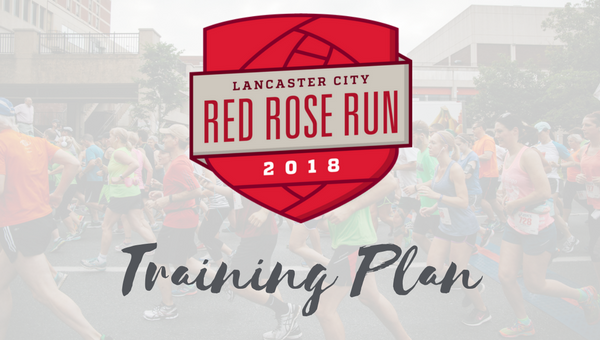 Whether you're a seasoned runner or just thinking about doing your first race, we're here to help you prepare for the Red Rose Run! Each week through the end of May, we'll post a training schedule, along with tips and tricks, provided  by Ben at FIT Studio.
 The 42nd annual Red Rose Run will be held on Saturday, June 2, 2018. Click here to register!
Hello everybody! My name is Ben Liebsch and I'm the owner of FIT Studio here in the heart of Lancaster City, the location of this year's Red Rose Run Pregame Party.
If you're anything like me, you take part in the annual tradition of spending a few minutes annoyed that the only thing separating you from that Belgian waffle at Commonwealth on Queen or that maple bacon long john from Shady Maple at Lancaster Central Market is the fact that Queen Street is closed and filled with people who VOLUNTEERED to run 5 miles right through the middle of your Saturday morning brunch plans! Well, I am here to tell you that with a little guidance and determination, you can join me and the rest of those fleet feet pushing up Duke Street at Lancaster City's 42nd Annual Red Rose Run!
Each week for the next 8 weeks, I'll bring you a run and a recommendation to help you prepare. The runs will slowly increase in distance until we find ourselves at the starting line ready for a fun 5 miles. The recommendations will be based off my personal experiences and the pitfalls I have encountered being a first-time runner.  Keep these in mind whether you are a first-time runner or tying those laces back up after an extended break!
So let's get right to it shall we?
THE RUN
To kick things off, I want to keep it fairly simple. Run from Lancaster Central Market to Lemon Street Market and back. This works out to just over a mile and is a great excuse to grab a bite post-run! Consider the walk to Central Market your warm up. Follow this with a combination of running and walking for 15 minutes on two different days throughout the remainder of the week.
THE RECOMMENDATION
The biggest issue I faced through all of my failed attempts at making running a habit was pacing myself. I would always launch into runs, thinking it should be hard and that suffering was just a part of the process. This is the wrong attitude for a lot of reasons, but I found a simple solution that really clicked with me. Proceed at a pace that allows you to breathe exclusively through your nose. This will likely lead to a much slower pace than you feel like you SHOULD be running, but just go with it. If you find yourself having to breathe through your mouth consistently, then slow to a walk until you can return to running while breathing through your nose. For more detailed information on this practice you can check out this article: www.fixyourrun.com/blog/2013/07/shut-your-mouth-endurance-the-easy-way
Until next week Lancaster!
By Ben Liebsch, guest blogger

Ben is a NASM Certified Personal Trainer with a focus on behavioral change. Benjamin believes physical fitness should be useful and has many benefits that run a lot deeper than aesthetics. Outside of working with clients and running FIT Studio he enjoys trail running, meatballs, and reading about applied psychology, business, and new developments in the health and wellness fields.