August 6, 2020

5 Ways Locals can Explore Lancaster City as a Tourist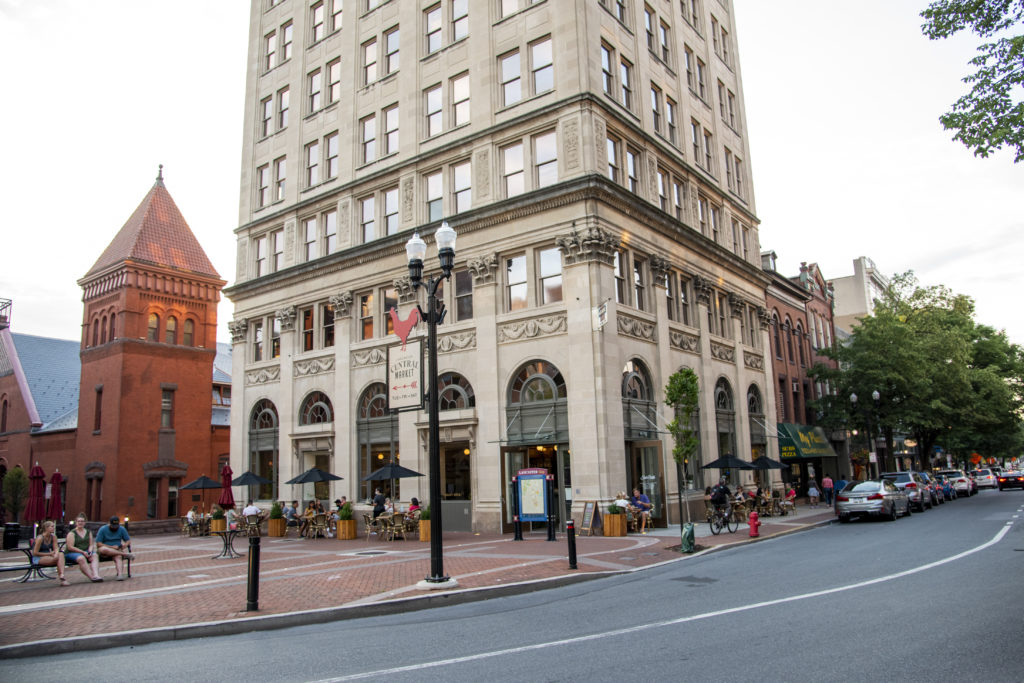 Due to COVID-19, many Lancaster families have found themselves stuck at home putting their creativity to the test as they try to invent ways to keep busy. Some have spent days planting and tending to new gardens, teaching themselves how to play guitar, or trying to become TikTok famous. But have any tried to be tourists in their own city?
We invite locals to explore Lancaster City as a tourist! You might be surprised by all the things to see and do in your own backyard. Below we have highlighted just a few ideas for how you can be a "tourist" in Lancaster City. These outings only highlight operating businesses that have put in place strong health and safety protocols to mitigate the spread of COVID-19.
To follow along with Visit Lancaster City's COVID-19 updates and find information about location specific health and safety protocols please visit our Support Lanc page.
---
VISIT CENTRAL MARKET!
Lancaster Central Market is the oldest, continuously, operating public market in the United States! The market has dozens of foods prepared and sourced by local farmers and chefs. Whether you are craving a cookie, smoothie, sandwich, or coffee, Lancaster Central Market has exactly what you are looking for! You can also purchase locally crafted items, flowers, and more. Another unique characteristic of Central Market is its vast array of cuisines. From Middle Eastern to Greek to Thai foods, Central Market has it all!
---
SHOP THE BLOCK!
Spend some time shopping downtown! Areas such as the 300 Block of North Queen, Prince St., Market Square, and North King St. are only a few popular shopping spots downtown. If you have a passion for boutique stores, vintage items, and indie goods, there is definitely a store for you. You can easily spend a few hours shopping in downtown Lancaster. Visit our Shop Local list to learn more about operating stores.
---
TRY A NEW RESTAURANT!
Lancaster City is full of delicious and diverse restaurants. It's unlikely you've been to every restaurant in Lancaster City, so why not try somewhere new? With excellent coffee shops, rooftop restaurants, outdoor seating options and more, there's plenty to choose from! You can find just about any cuisine in Lancaster City, too. Whether it's Himalayan, Trinidadian, or Vietnamese we have something for you! Many restaurants are offering outdoor seating, takeout, cocktails to-go, and other specials. If you can't find seating at a restaurant, you can bring your food to one of the city's public dining areas. Visit our Eat Local list to learn more about operating restaurants.
---
GO ON AN ART WALK!
It's no secret to locals that Lancaster City has a flourishing arts scene. Not only do dozens of artists come to Lancaster to pursue their passions but the city itself has made the installation of public art a top priority. You will find murals and sculptures scattered throughout the city. You can spend hours wandering the city and experiencing local artwork. Go check out local artists' work in the many gallery & studio windows or follow along one of the city's self-guided art tours. To learn more about the Lancaster Public Art program, visit LancasterPublicArt.com.
---
VISIT A MUSEUM!
Lancaster City is home to many museums: Demuth Museum, Lancaster Science Factory, North Museum, and Lancaster Museum of Art. Although some museums are specifically geared toward children other museums are more popular for adults. You can learn about energy or you can admire artwork at one of these local museums. You never know what you might discover! Please check each location for their COVID-19 protocols before visiting.
---
There you have it, 5 ways to explore Lancaster City as a tourist even if you've lived here your entire life. Learn more about Lancaster City by doing something new and getting lost in your own backyard!
This list only begins to scratch the surface of things to see and do in Lancaster City. Please visit our attractions list to discover other ideas of things to do in the city. Remember to wear a mask and practice social distancing when out & about in Lancaster City!
---
Stay in the LOOP on all things Lancaster City by following Visit Lancaster City on Instagram and Facebook!