Stay
Lancaster Arts Hotel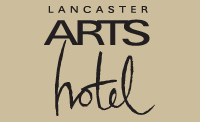 Deluxe accommodations with unique surroundings
Situated in the heart of Downtown, Lancaster Arts Hotel features deluxe accommodations with unique surroundings. All of the rooms, from the lobby to the suites, are filled with original works of art, especially that of local Pennsylvania artists. We are proud to display some of Lancaster's finest works of art, with a collection worth over $300,000 dollars.
We have 269 pieces of art by 36 artists who work in 15 different mediums. With an on-site restaurant, fitness facilities, and a location central to all the best attractions in Lancaster County, Lancaster Arts Hotel is an ideal choice for your travels. On 1 September 1881, Thomas E. Franklin of Lancaster sold the lot of 300 Harrisburg Avenue to Arnold Falk, of New York, for $1400. Mr. Falk proceeded to build a 3 ½-story double warehouse measuring 64 feet and 4 ½ inches by 245 feet, half of which he sold three months later to Albert S. Rosenbaum, also of New York. The property was divided down the center by a party wall and was occupied by G. Falk and Bro. and A.S. Rosenbaum Tobacco Warehouse. Sometime afterward, the buildings were combined under one deed and single ownership, becoming the Falk and Rosenbaum Tobacco Warehouse. Thereafter, the building was used for tobacco storage by at least three other companies until circa 1945. Over the next forty years, the building was occupied by a wholesale paper and twine business, presumably United Paper and Twine, and then used for storage by various companies, including an electronics business.
It is one of four buildings still standing from what had been a collection of eight warehouses. As a member of Historic Hotels of America, the Arts Hotel proudly embraces its historic roots not only in our building, but in our city, the oldest inland city in the Country. The 63 guestrooms and suites of Lancaster Arts Hotel have been appointed with comfort as well as beauty in mind. Taking a cue from the historic former tobacco warehouse that houses the hotel, designers have played with a successful juxtaposition of 21st century comforts such as wi-fi internet access, iPod docking stations, HDTV, flat-screen televisions with handcrafted furnishing, exposed ceiling beams and brick walls, and of course, that glorious art work.
More Lancaster City

Places to Stay