September 3, 2020

Wellness, Tradition, & the 44th Annual Red Rose Run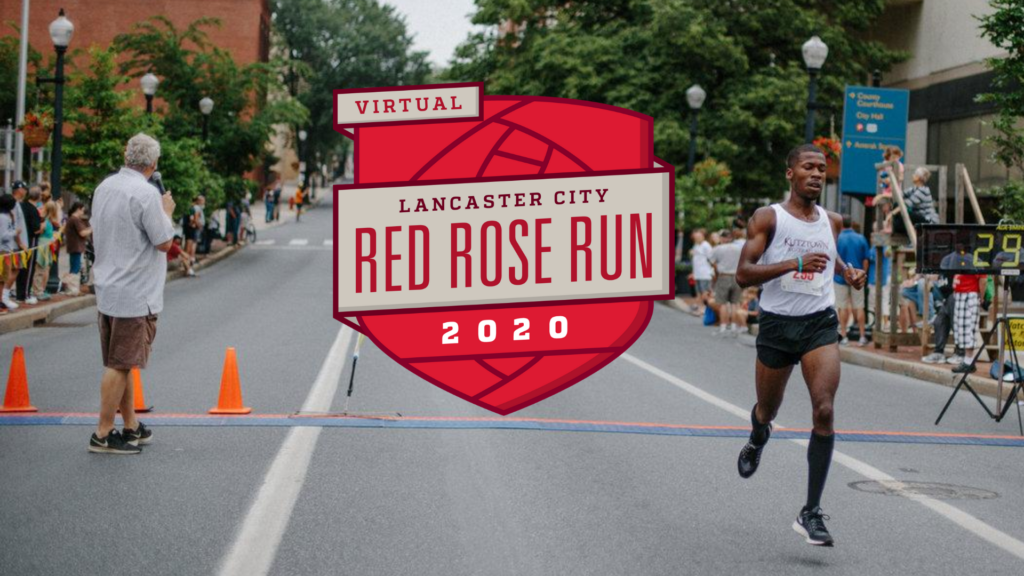 The 44th annual Red Rose Run has gone virtual! Like in so many other areas of life, we're finding new ways to celebrate longtime traditions. This year's Red Rose Run will take place over four days, Sept. 19-22, and can be completed from anywhere. Those who register will receive a Red Rose Run 2020 neck gaiter, are eligible to submit their time to win categories, and are supporting a local favorite, the Lancaster Central Market.
For more information on how to register, to explore 5-mile course ideas, and go over the details in our F.A.Q., head over to VisitLancasterCity.com/Red-Rose-Run.
Staying active during COVID-19 has been a challenge for some and a saving grace for so many others. The Lancaster Office of Promotion staff (who plan the Red Rose Run) wanted to share some of our takes on being active and what that means to us right now. Whether you run, walk, hike or practice yoga, we hope you can relate!
Check out our excerpts below and don't miss the official Red Rose Run 2020 Playlist!
---
"I have been running basically ever since I could put one foot in front of the other! My parents are both runners and taught me that running helps clear the mind. Running is my therapy, my me time, my thinking time on work and reflective on life, my meditation and reset button.
I always keep my head on a swivel because both country and city running makes a personal vulnerable, especially once you get into the groove into your own head! I love running alone or with a crew! Lately it has been a family venture which allows us all to get out and get our me time, together! (Headphones are a must for our group runs :)" – Kayla
---
"Being active for me clears my mind and provides a sense of clam and clarity. It also has the great benefit of helping my body stay strong and healthy. To me, being active is synonymous with getting outdoors and experiencing nature largely through hiking at public parks and preserves. Spending time outside boosts my energy, allows me to explore new spaces, and gives me time to appreciate the natural beauty of Lancaster and beyond. Other than hiking, I love to swim, do yoga, kayak, and go on walks exploring Lancaster City to stay active." – Wyatt
---
"I love to start the day with a run. It's fresh air, time to focus or zone out, and it's a commitment to my health. Running makes me feel accomplished before the day officially begins. It's an energy boost pre coffee.
Growing up, I watched my mom lace up her shoes early, meeting friends rain, snow or shine. She taught me to set a goal, stick with a healthy routine and emphasized the importance of having girlfriends that I could count on everyday. I still enjoy catching up with friends best on foot.
Today I run with my two girls, Molly and Sadie, and it's one of my favorite things to do with them. We talk, explore, or get a post run treat at market. I hope they see that it's important to put time into something you love and to love your own strength just the same." – Annie
---
"I hike because I enjoy nature and it provides me with the time and space to clear my head. Hiking is a great way to get some fresh air, immerse yourself in wildlife, and explore a new area. My love for hiking has brought me to some of the most beautiful places I have ever seen. Sometimes it can be tough to keep pushing myself to climb higher but as soon as I reach the top and look out at the view I am so proud of what I just accomplished." – Katie
---
The Red Rose Run Playlist
Need some playlist inspiration? The Lancaster Office of Promotion staff put together some of our favorite songs to listen to while being active. Check out the playlist on Spotify!
---
---
Stay in the LOOP on all things Lancaster City by following Visit Lancaster City on Instagram and Facebook!