March 29, 2022

Three Women Entrepreneurs Reflect on Women's History Month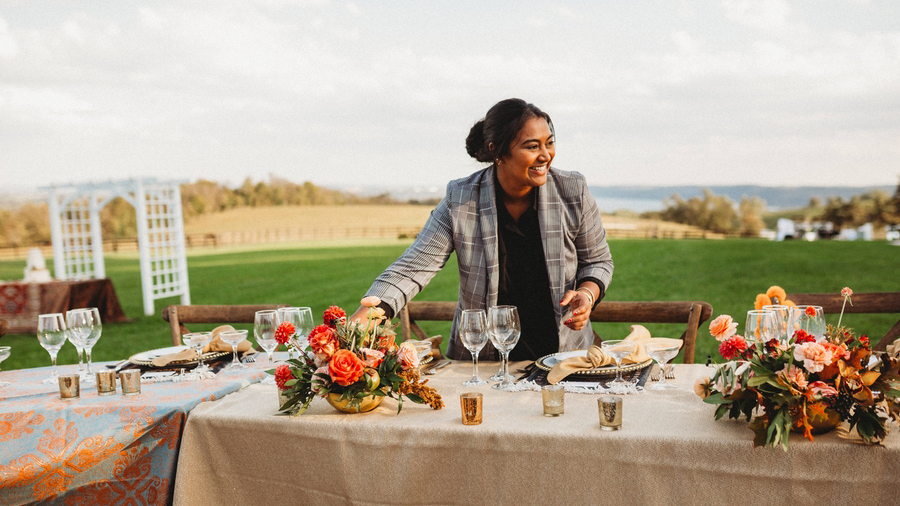 By Soseh Yepoyan
The City of Lancaster is proud to be home to so many women-owned businesses. Here are three Lancaster City-based women entrepreneurs' reflections on Women's History Month.
Meet Timbrel Chyatee of CHYATEE!
Timbrel's socially conscious label CHYATEE focuses on Indian art and handcrafted fashion. Her inspiration comes from her time in India after college, where she volunteered with the underprivileged of her birth town and she quickly fell in love with the fabrics, fashion and people. She wanted to make a positive impact and use her love of fashion in the process.
How Timbrel Celebrates Women
In regard to Women's History Month, Timbrel said, "This month has such a symbolic meaning and I try to do my best to support the women in the world. This month I hosted a special event called 'Timbrels Table' where friends, clients and customers all came together at our table in the store and we ate yummy food I made and discussed what it means to be a woman in our society. Each woman comes from different backgrounds and so we all grow together and learn from one another. Food, Feminism and Friendship is always a win in my eyes."
A Woman Who Inspires Her
Timbrel feels most empowered when she empowers others. Every First Friday she has a new local female artisan come into Chyatee and showcase their art. When asked about a woman who inspires her, she answered Indira Gandhi, who was the first and only female prime minister in India. Timbrel said, "She was a politician in an all-male world… I do not believe she was the perfect government leader, but she did lead with strength, boldness and was unapologetic for her power—I love that." She also added that Indira Gandhi was a fashion icon in the way she wore her saris and represented Indian fashion in the global world.
In addition to CHYATEE, Timbrel also hosts The Cultured Wedding Workshop to share her love and understanding of culture and differences in the community! Learn more about her at timbrelchyatee.com.
Meet Isabelle Warfel of Isabelle Cuisine!
Isabelle moved from Burkina Faso to Lancaster in 2000 after getting married to her husband. Her original goal was to become a cafe owner and despite starting a family and changing career paths, food kept calling. This is how Isabelle Cuisine was born!
Find Isabelle Cuisine at Stand 19 in Central Market
After starting out by going to various events and outdoor markets, Isabelle is happy to now have her permanent location at Central Market. She said, "It is also nice to see the community coming out and little by little they are getting to know me. They are telling their friends and their families." She loves serving her customers, introducing them to new tastes, and seeing their reactions. Her menu includes staple dishes, such as her popular dish of rice and beans with caramelized onions, and every market day she tries to have something different!
A Woman Who Inspires Her
In honor of Women's History Month, she listed two women who inspire her. She said, "Maya Angelou, because I like to read. Oprah, because she started from humble beginnings and look at where she is. It's just nice to see how small you can start and you can get lucky, in addition to hard work, and where you can end up. We actually have the same birthday! But that's besides the point." Alongside hard work and luck, Isabelle adds that having a strong support system is important.
In addition to her stand at Central Market, Isabelle also caters! Check her out at cuisinebyisabelle.com.
Meet Trish Haverstick of Lemon Street Market!
Trish owns Lemon Street Market, which she described as a "healthy, local, one-stop place" for people to get their food. It is a sustainable grocery store, which focuses on the quality of food and brings local farmers products to Lancaster.
Love For the Community
Trish grew up around natural food and has experienced the local food industry as she lived on a farm. She describes her journey to owning Lemon Street Market as "an evolution" and that it is her activism around bringing local food and culture to others that makes her so passionate. She loves working with local vendors and seeing her community being supported!
A Woman Who Inspires Her
When asked about a woman who inspires her, Trish answered that although she did not know it at the time, taking an anthropology course with Carole Counihan at Millersville University was transformative in what she wanted to do in the future. Not only was it empowering to see a woman in one of her areas of interest, but she was really able to learn about food activism, which is clearly reflected in how she runs Lemon Street Market.
Lemon Street Market is open 7 seven days a week from 7am-7pm at 241 W. Lemon Street. There is also a Kitchen & Coffee Bar, alongside an option to create Special Orders!