May 22, 2018

Red Rose Run Training Plan: Week 7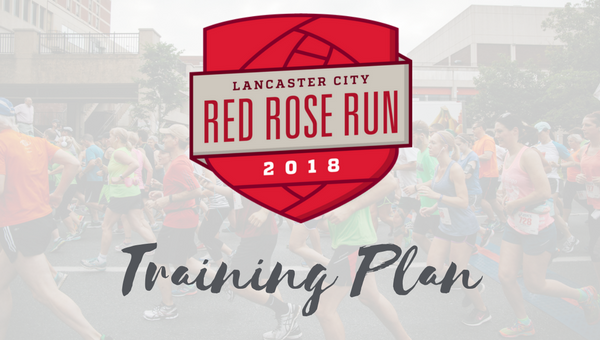 Whether you're a seasoned runner or just thinking about doing your first race, we're here to help you prepare for the Red Rose Run! Each week through the end of May, we'll post a training schedule, along with tips and tricks, provided  by Ben at FIT Studio.
 The 42nd annual Red Rose Run will be held on Saturday, June 2, 2018. Click here to register!
Greetings Roses! Did you miss me last week? With all the preparations for this year's Red Rose Pre-Game Party going on, I thought I would offer up a test of your self-efficacy and determination. Hopefully you figured out that you needed to run 3.5-4 miles for your long run last week. It's been a lot of fun taking everyone through this training and I hope you've all learned something.In our final week of training leading up to the Red Rose Run, you are going to run 4 miles and change through the bulk of the race course. Let's get laced up then!
The Run
Start at the Lancaster City Visitor Center in Penn Square
Run east on King Street
Turn right onto Duke Street
Continue south on Duke Street
Turn right onto Chesapeake Street
Turn left into Lancaster Central Park
Turn left onto Rockford Road (the first road you come to)
Continue straight to follow the trail as the road ends
Turn left on Duke Street (enjoy the climb!)
Turn left on King Street
The run ends back at the visitor center!
The Recommendation
REST. In the week leading up to the run, just cover a mile two other times during the week to keep your legs fresh. You've run 80% of the distance but completed 95% of the effort. Roger Bannister rested for two weeks in the Swiss Alps before running the first sub 4:00 mile. There is a great book about rest called, "Peak Performance," by Brad Stulberg and Steve Magness. I highly recommend it.
It's been a real pleasure. Remember to just put one foot in front of the other. See you on race day!
By Ben Liebsch, guest blogger
Ben is a NASM Certified Personal Trainer with a focus on behavioral change. Benjamin believes physical fitness should be useful and has many benefits that run a lot deeper than aesthetics. Outside of working with clients and running FIT Studio he enjoys trail running, meatballs, and reading about applied psychology, business, and new developments in the health and wellness fields.