April 13, 2018

Red Rose Run Training Plan: Week 3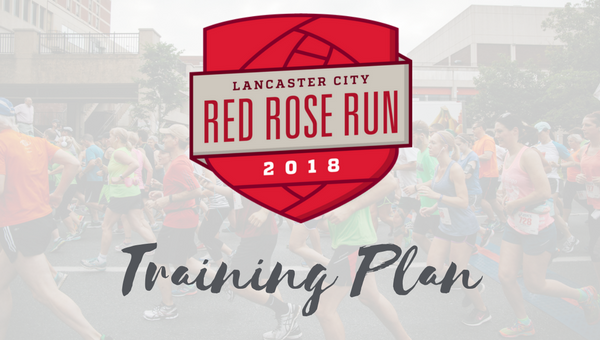 Whether you're a seasoned runner or just thinking about doing your first race, we're here to help you prepare for the Red Rose Run! Each week through the end of May, we'll post a training schedule, along with tips and tricks, provided  by Ben at FIT Studio.
 The 42nd annual Red Rose Run will be held on Saturday, June 2, 2018. Click here to register!
Welcome back Roses! How did the week 2 training runs treat you? I hope you are starting to find a pace that work for you and I hope those stretches are keeping you all nice and limber! Last week I learned that the Monster Mozzarella sticks at Spring House made the second half of the run especially… heavy. This week we're going to head north and up our mileage as we find ourselves one week closer to this years Red Rose Run. Let's get right to it!
THE RUN
The weather is finally turning a corner and I want you to start getting a feel for a piece of the actual course, so this week you'll begin your run at FIT Studio (30 North Queen Street), head straight up Queen Street until you get to the doors of the Amtrak Station, then go ahead and bring yourself back to FIT Studio. Drop in if you need a bottle of water post run and pick up one of Aura's turmeric lattes while you're downtown. This is 2 miles and some change, so at the very least hit that distance on your long run. Your shorter runs, on two other days throughout the rest of the week, should be at least a mile.
THE RECOMMENDATION
As valuable as running can be for your health, cardiovascular endurance is just one aspect of physical fitness. Cross training is important in preventing injury, speeding recovery, and shores up muscles not used during running. Runner's World has a great list of cross training activities here: www.runnersworld.com/running-tips/16-cross-training-activities-to-try.
We're almost halfway there, until next week!
By Ben Liebsch, guest blogger

Ben is a NASM Certified Personal Trainer with a focus on behavioral change. Benjamin believes physical fitness should be useful and has many benefits that run a lot deeper than aesthetics. Outside of working with clients and running FIT Studio he enjoys trail running, meatballs, and reading about applied psychology, business, and new developments in the health and wellness fields.