October 2, 2017

Meet the Artist: Kevin Lehman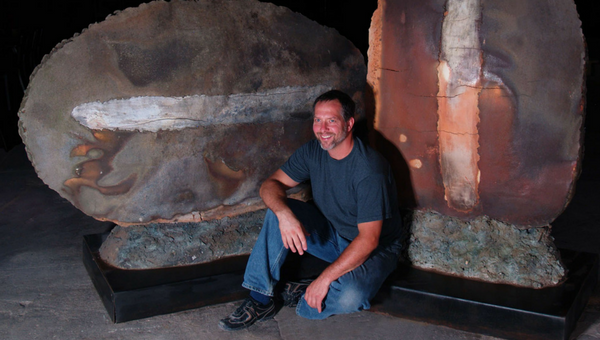 On Thursday, October 26, 2017, the Governor's Awards for the Arts in Pennsylvania will be held in Lancaster City. It is a great honor to be chosen to host the awards, and in celebration, the Lancaster arts community has rallied together to put on a week of events. Leading up to the week, we'll be highlighting a handful of amazing individuals that make up the Lancaster arts community. Today is Kevin Lehman of Kevin Lehman Studio and Lancaster Creative Factory!
How are you involved with the 2017 Governor's Awards for the Arts?
We're going to host the two shows here at the Lancaster Creative Factory.
One is the Strictly Functional Pottery National Show, which is in its 25th year. It's probably the most well know functional show in the United States. There's about 100 people in the show. It's a national representation. It's a big deal in the ceramic world, and it's right here in Lancaster.
Then, there's the South-Central Potters Show. That's 30-40 local potters and artists.
What made you pursue art?
I felt like there's something about creativity that is important; in the arts that's fostered, cultivated, and encouraged. I'm interested in creativity and how that enables problem solving, intuition, connection and ultimately transformation and healing.
What do you love about Lancaster and the Lancaster community?
I'm here and I love it. I grew up in this place, I know the people, and there's something to be said for that. I like the people I meet, but maybe I'm just hanging out with the right people.
As the art scene in Lancaster continues to grow, what do you think lies ahead for art in Lancaster?
I used to be in this space alone for weeks on end and now there's 20 artists working out of here. I've seen more and more non-artists become involved with the arts as well. I think that's crucial. People are realizing the same thing I've realized. It's not necessarily art for art's sake. It's about the process and what that does for people.
What local organizations are you involved with?
Lancaster Potters Group, PA Guild of Craftsman, the Lancaster Designer Craftsman.
In what ways do you see art and community intersect in Lancaster?  
Ultimately, what I'm trying to do — it's connection to self, to others, and to nature. Artwork connects people to people, and when you do group projects, like a lot of projects I've done, it brings people together and they take ownership of things.
I also think there's a difference between community art and public art, I would like to see more community art. Community art is developed and created by the community where it's going, which I think is important.
Do you have any hobbies, art related or otherwise?
All these things blend together. Some people have their work and then their life and then the things they do — mine blend, I go to life every day.
It's the blending for me that's important. I feel like I get up and go to life. I push for that to be the goal of youth and everybody.
For more information about the 2017 Governor's Awards for the Arts in Pennsylvania, go to www.pagovartslanc.com.