October 17, 2017

Meet the Artist: Peter Barber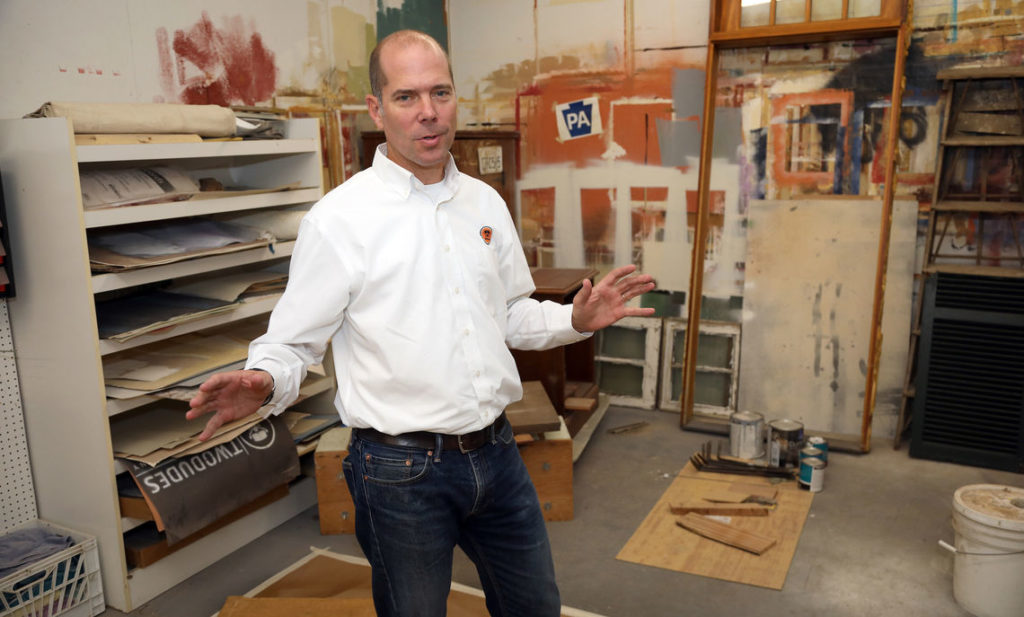 On Thursday, October 26, 2017, the Governor's Awards for the Arts in Pennsylvania will be held in Lancaster City. It is a great honor to be chosen to host the awards, and in celebration, the Lancaster arts community has rallied together to put on a week of events. Leading up to the week, we'll be highlighting a handful of amazing individuals that make up the Lancaster arts community. Continue reading to find out more about Peter Barber, president of Two Dudes Painting Company, which is sponsoring a mural project in the South West neighborhood of Lancaster City.
How are you involved with the 2017 Governor's Awards for the Arts?
Our business gets involved in a lot of public art projects, so seeing what's going on we thought this would be a great opportunity for us to reinvigorate that program and celebrate this moment.
The project that we're doing is going to be a large mural on the side of our building here, and we've coordinated with 10-25 other artists involved to create mini-murals that are take-offs of the big mural that will be on the side of our building. If it all works, it will be pretty awesome.
All the artists will bring their own mindsets to their individual murals. We hope to have community interaction to come and help paint this – it would basically be color-by-number. It engages people in a meaningful way and hopefully creates a sense of ownership in the neighborhood. All the other little, artist murals we're trying to keep in this neighborhood as well. So, we can create this real neat dynamic of spotting them as you walk around.
Wednesday of the week is 'Mural Day' so that will be the public portion of painting the mural, and hopefully all the other mini-murals will be finished by then. We plan to publish a walking tour map, so people can walk around the neighborhood. I think it's a great way to get people to know this neighborhood.
What made you pursue art?
With all murals that we paint around town. I don't paint any of them. I don't design any of them. I look at my role as an executive producer or director of art. I have a lot of ideas we could do, a lot of murals around town stem from ideas I've had or ideas I've facilitated in conversations. Then, we pull together the resources to act on them. That's part of the problem. A lot of artists are incredibly creative and talented people but they don't have the logistical ability or relationships or resources that I can bring to bear. That we can use the skills of the artist in very meaningful ways, which is the total parallel to my business. We're a painting business, I don't go out and paint everyday anymore, but we have a lot of talented painters. The most effective use of my time is not painting every day, but going out and building relationships, and finding new jobs.
Part of being an artist is how do you facilitate the opportunity for people to appreciate the arts and that's as much of a skill as anything else.
What do you love about Lancaster / the Lancaster community?
I love the creative energy you can find in Lancaster when you just walk through the community. I live right downtown, so I'm a big walker. It's amazing the kinds of creativity you can find when you're walking. Even just the pace of walking give you a better sense of that. When I walk to work, which is about a mile, there are four or five art installations. When I walk downtown, I go past art studios. That shared sense of community and ownership and involvement in expressing and demonstrating the creativity is just a really neat thing.
As the art scene in Lancaster continues to grow, what do you think lies ahead for art in Lancaster.
I think there is a huge opportunity for the younger generation to continue a lot of the great work that's been done up to this point. The open source nature of how the arts community is doing things now is very different than generations ago. It used to be there's an artist here and one here, rather than the huge collaborative effort we're seeing with the arts now. I think that's going to provide more opportunities and a broader range of engagement from many different communities in Lancaster. Let's face it – art has been a white man's game in Lancaster and I think by engaging different people from different sectors of the city, different ages, different ethnic groups throughout the city that's where we're going to see just an explosion of creativity around here. There's going to be so many different people with different life experiences expressing themselves.
In what ways do you see art and community intersect in Lancaster?  
I think the arts can help support the sense of community and it can create a sense of community. We've seen that with the murals that we've done. We've seen the sense of community pride that evolves because of the public art in their spaces. They become real identifiers of that community.
For more information about the 2017 Governor's Awards for the Arts in Pennsylvania, go to www.pagovartslanc.com.