September 27, 2017

Meet the Artist: Loryn Spangler-Jones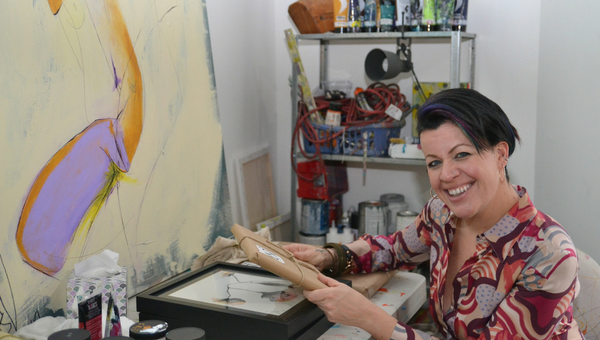 On Thursday, October 26, 2017, the Governor's Awards for the Arts in Pennsylvania will be held in Lancaster City. It is a great honor to be chosen to host the awards, and in celebration, the Lancaster arts community has rallied together to put on a week of events. Leading up to the week, we'll be highlighting a handful of amazing individuals that make up the Lancaster arts community. First up is Loryn Spangler-Jones!
How are you involved with the 2017 Governor's Awards for the Arts?
I'm really excited about this project. Annie Kerekgyarto, a dear friend of mine and former owner of Sunshine Art and Design, she gave me the idea of going to different parts of the city and teaching a class.
It's titled "Creative Integration through the Art of Mask Making" and the way that came about was having gone to an artist mixer and listening to what community members were saying there, and feeling that we're not doing a good enough job at reaching out to all members of our city.
I want to be that person that reaches out. That's why I've removed the word diversity from my vocabulary and have focused on integration. And, I don't just mean integration in terms of race, color, sexual orientation, economic status, for me it's the whole picture – adults and kids, inter-generational. Ideally, we're going to take this class into three locations within the city and it will be open to all. Community members are invited to take a mask making class and the participants will be invited to march in the parade on the 22nd with their masks, and again trying to integrate all aspects of our community and our city, because our city is more than just three blocks and I think that's what often gets the attention. I want to break down that wall.
As the art scene in Lancaster continues to grow, what do you think lies ahead for art in Lancaster?
Nothing but more good stuff, I think Lancaster's already becoming a destination city, I would love to see more street art and murals. I would like it to become more of a destination city for art lovers, art collectors, and artists. And I think the Governor's Awards for the Arts is an amazing platform to help make that happen, if all of us show up and do our part.
In what ways do you see art and community intersect in Lancaster?  
I think specifically the idea of using art as a platform to bring people together and integrate. I think that as an artist, as a merchant, as a gallery owner, it is my responsibility to use it as a platform to do good and to make social change. Art comes from a place of creativity which implies making something from nothing, versus something that is destructive. It's an organic way of working within the community and bringing people together.
I would like to see more of our local galleries and artists doing this. I think we need more of that, I don't think you can have too many. There are several that do, but I would like to see more people stepping up to the plate that have the means to do so. We have so much talent in this city, we have so many makers, regardless of the genre.
For more information about the 2017 Governor's Awards for the Arts in Pennsylvania, go to www.pagovartslanc.com.