March 16, 2018

Luck of the Irish: St. Patrick's Day 2018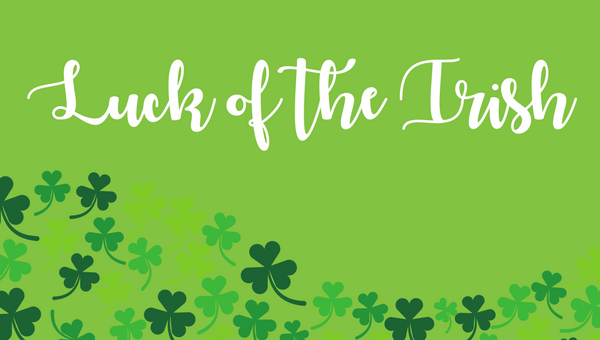 Saint Paddy's Day is upon us here in Lancaster City and if you're looking to get into the Irish spirit, look no further than these three establishments! All three local staples will be hosting musical events, special menus and fantastic drink specials all weekend long, so stop by all three to celebrate Saint Paddy's Day. We'll see you there!
Annie Bailey's
Saint Paddy's Day at Annie Bailey's is like nothing you've ever experienced before. This authentic Irish pub is the perfect spot to enjoy food, music and some Irish dancing! This is a weekend long celebration so don't miss out. All weekend long there will be different musicians playing, drink specials and festive foods so the good times never have to end. On Saint Paddy's Day, March 17, Annie Bailey's will be open from 7 am – 2 am and they will be offering breakfast on this special day.
For more information about the entertainment, food and drink specials, visit www.anniebaileys.com/st-patricks-day
Tellus 360
If you enjoy Guinness and great musical acts, look no further than Tellus360! Tellus will be opening at 6 am for a special holiday breakfast so be sure to get there early. Drinks will start being served at 7 am and all musical events will start at 2 pm. This is an all-day celebration so be sure to wear green and show off your Irish spirit! Musical acts will go from 2 pm – 1 am and make sure to see The Ogham Stones, a Celtic Rock band from right here in Lancaster. This is a night you won't want to miss.
For more information, head to www.tellus360.com.
Brendee's Irish Pub
Hold onto your bagpipes because the party isn't over yet. Come check out Brendee's Irish Pub and see how they're celebrating Saint Paddy's Day! Opening promptly at 7 am, Brendee's will be serving a special breakfast for those early morning risers and for those who just can't wait to get into the Irish spirit. As a special treat, there will be a bagpipe performance from 9 am – 11 am so come out and listen to some authentic Irish music. The party doesn't end here though as Brendee's will be serving up a special menu all weekend long, so be sure to stop in and check it out.
Be sure to check out their website, www.brendeesirishpub.com for more information.