February 27, 2019

Let's Eat! – Lancaster City Restaurant Week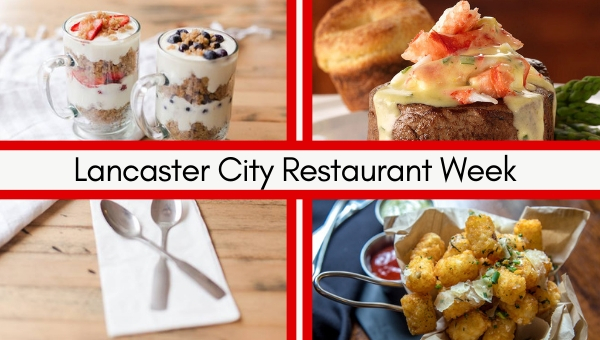 If you have been wanting to try a new restaurant in Lancaster City, then now's your chance! There is no better time than Restaurant Week to discover new restaurants unique to the city or get a great deal at one of your favorites! Whether you're an early bird or a night owl, Lancaster City Restaurant Week has got you covered through breakfast, lunch and dinner!
What is Lancaster City Restaurant Week?
Lancaster City Restaurant Week is a twice-a-year event that showcases everything delicious, scrumptious, and delectable within our little city. Spring 2019 Restaurant Week will run from March 4th through 10th. Throughout the week you can find over 34 restaurants offering deals ranging from $10-$20-$30-$40. This includes breakfast, brunch, lunch, dinner, dessert and drinks from diverse cuisines including; American, African, Asian, Ethiopian, Irish, Indian, Italian, Jamaican, Latin, Mexican, Nepalese, Trinidadian and Vietnamese. You can find more details on their website, or keep scrolling to see a few restaurants we're looking forward to trying!
Breakfast & Brunch
Check out this spot for a morning pick-me-up of a breakfast item and signature latte for only $10! Try one of their menu items like the Chorizo Gravy & Biscuits or the Chocolate Banana Quinoa Bowl!
Breakfast for two? Yes, please! Get any TWO classic breakfast sandwiches for $10 with your choice of meat, avocado or hash browns. Missed the morning rush? No problem! Stop by for their continued $10 lunch specials!
Enjoy two of the following crepes; Thai Chicken, Philly Cheese, Cuban, Western Omelet or Greek Omelet with two cups of in-house soup/ salad for $20! This deal will be honored for breakfast, lunch and dinner!
Lunch
All day $10 specials will be happening at the Prince Street Café during Restaurant Week! For Lunch and Dinner, you have the option of any menu item for just $10. This comes with your choice of beverage, including a smoothie!
Tsunami Express $10/$30
Enjoy a Red Dragon Roll for $10 served with a seaweed salad or edamame. For $20 more, get your choice of two signature rolls, four Nigiri (chef's choice) and two Spring Rolls!
Sprout's lunch/dinner deal is sure to leave you feeling full! This Vietnamese eatery is offering a $10 special on any roll, banh mi and drink of your choice! Offer is for dine in only.
Splits and Giggles $10/$20
Find a meal deal for one or for two at Splits and Giggles! You choose from their options of sandwiches, the soup du jour and finish off the meal with a single scoop of Hershey's hand-dipped ice cream! Altogether, making your afternoon a bit sweeter!
Dinner
Federal Taphouse Lancaster $20
Still have room following your earlier Restaurant Week adventures? The Federal Taphouse is offering a two-course meal and a craft beer for just $20! Simply choose from the menu options and dig in!
Shot and Bottle $30
Some of us can't get enough of breakfast foods! Shot and Bottle is encouraging the "Brinner" (Breakfast for Dinner) mentality during Restaurant Week, and we couldn't be happier! Enjoy three courses of their unique breakfast-style meals for $30!
Talk about a Restaurant Week deal! The Stockyard Inn is offering a two-course meal of fine dining followed by a dessert of your choice! If the thought of Filet Mignon or Chicken Piccata makes your mouth water, then this Restaurant Week deal might be the perfect fit for you!
Dessert & Drinks
Bakehouse on King is offering two different Restaurant Week offers. One is the $10 Baker's Box (Choice of two croissants, savory scone, cinnamon sugar hand pie and a hot/iced coffee) and the other is the $10 Bread Sampler (2 loaves of country and/or flavored sourdough and 1 baguette).
Bistro Barberet & Bakery $20/$30
Whether you have just finished your lunch or dinner at Bistro Barberet & Bakery, end the meal on a high note with your choice of a dessert! Choose from a Vanilla Crème Brulée or a fresh selection from the bakery!
POUR- Craft Food & Drinks $20/$30
Enjoy an alcoholic beverage alongside your meal at POUR in Lancaster City. Their $20 dinner deal comes with your choice of wine or beer, and for Sunday brunch, enjoy either a Mimosa or a Bloody Mary!


AND while you're eating your way through Lancaster City, be sure to post your best foodie Instagram shots with the hashtag #LCRW2019 to enter Lancaster City Restaurant Week's Instagram Contest!
Prizes will be awarded to the winners!