November 29, 2018

Lancaster City for the Holidays 2018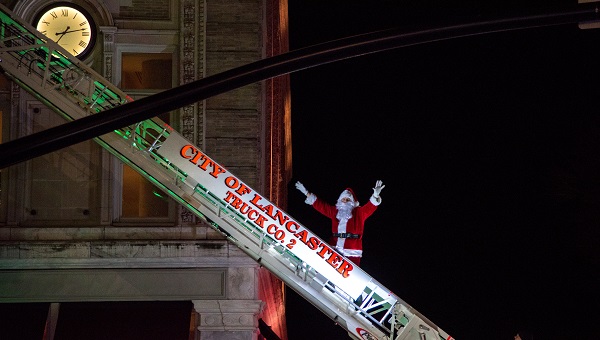 As the weather is turning crisp, leaves are falling off the trees, and green and red is adorning the city, a series of holiday events are kicking off the season in Lancaster City. From the Mayor's Tree Lighting ceremony to Breakfast with Santa, expect to have your holiday season jam-packed with festive events for the whole family to enjoy.
These events will begin with the Mayor's Tree Lighting & Tuba Christmas on Friday, Nov. 23 at 6pm. Not only will Santa arrive on a fire truck and the Mayor will light Lancaster City's Christmas Tree, but the event will also include performances by Prima Theatre and Tuba Christmas!
The Lancaster City Business Window Decorating Contest kicks off Nov. 23 too! Vote for your favorite shop window at LancasterOnline.com/contests/downtowndecorating.com. Voting is open until Dec. 10. Voters will be entered to win a Lancaster City prize package organized by LNP.  The best windows will be announced on Dec. 13 in LNP's Entertainment Lancaster.
The following day, Saturday, Nov. 24 will feature Small Business Saturday; an event that supports over 200 local business in Lancaster City. Free two-hour parking will be provided courtesy of Lancaster Parking Authority, and parking vouchers will be available for pick up at the Lancaster City Visitor Center, 38 Penn Square, and other central locations.
On Saturday, Dec. 1 the Lancaster Marriott at Penn Square, 25 S. Queen St., will host Breakfast with Santa from 8-9:30am. Listen to music by Mark DeRose while enjoying a full spread of waffles, scrambled eggs, fresh fruit and more. Tickets are $12 per person and children two and under are free, but still require a reservation.
Also on Saturday, Dec. 1 is Light Up South East, Southeast Lancaster City's annual holiday celebration and tree lighting ceremony! Light Up South East will take place in front of San Juan Bautista Church on the corner of South Duke Street and North Street from 5-7pm. There will be live performances by Crispus Attucks Community Center and Millersville University's Gospel Choir, the arrival of Santa, and the lighting of the tree!
On Sunday, Dec. 2, you can get a sneak peek at New Year's Eve in Lancaster City at Tellus360, 24 E. King St. with the NYE in Lancaster City Pre-Show! The band headlining NYE on Dec. 31, One Too Many, will play in Tellus360's front bar from 2-5pm. Come enjoy the show and get ready for the New Year!
Thursday, Dec. 13 will feature Lancaster Shops Late, a night where participating Lancaster City shops will stay open until 9 p.m. or later. The event will feature roaming entertainment and warm beverages throughout the city, the perfect combination to holiday shop with ease!
Friday, Dec. 21 there will be a new take on Music Friday in the city with Music Friday Winter Edition. Bundle up and head to Penn Square for live music, hot chocolate, Santa Visits at the Marriott, and more! There will be space heaters to keep you warm and merry.
To conclude the holiday festivities, come ring in 2019 on Dec. 31 with NYE in Lancaster City starting at 10 p.m. This New Year's Eve celebration will feature a concert by hometown band, One Too Many. Later, as the Red Rose City, Lancaster drops the Red Rose at midnight with a fireworks show shortly after!