July 16, 2019

Experience Music Fridays In The City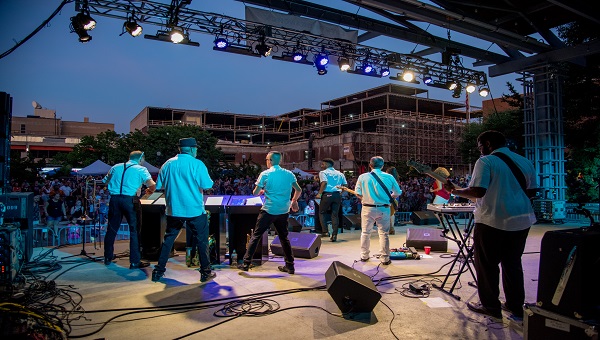 If you attended last month's Music Friday, you were treated to the band Trash Juice as they played their blend of jazz, funk, and rock (which they call "Jarunk") on stage at Binns Park. Trash Juice was one of three signature concerts at Binns Park this summer during Music Fridays, which take place on the third Friday of every month.
The next Music Friday is this Friday, July 19th and will feature the band All Systems Go, a pop punk band from Delran, NJ. The band has played roughly 50 shows with much more in store for their local and regional audiences. Their sound is often described as "pop punk music with rock & roll vibes"; a combination of Green Day and Cheap Trick.
The following Music Friday, on August 16th, will feature the band Fierce. They are a local band from Lancaster, PA who play their own original songs, as well as a mix of Rock, Blues, and the hits of yesterday and today! Fierce describe themselves as "Lancaster's Premier All Girl Band!"
The final Music Friday for the summer takes place on September 20th and will be the Young Musicians Showcase hosted by J3 Music Studios, Music for Everyone, and the Lancaster Office of Promotion. As the name suggests, it spotlights young musicians between the ages of 12-19 years old. If you or someone you know is interested in in auditioning for the young musicians showcase, an audition spot can be reserved at www.j3musicstudios.com. Auditions will be held Sunday, July 21st from 12 to 4pm.
In addition to signature concerts, each Music Friday includes a number of street spot performances throughout downtown Lancaster. If you or someone you know are interested in checking them out, each street spot is included in the list below! 
Penn Square
North Queen Street
Place Marie – 52 North Queen Street – Bohdi's Ransom
Federal Taphouse – 201 North Queen Street – Bill Peters
200 Block of North Queen Street – Max Lederer
Madcap & Co. – 310 North Queen Street – Derek Paris Frantz
PA Guild of Craftsmen – 335 North Queen Street – Brad Minnig
Corner of Lemon Street and N. Queen Street – Dillweed
WLAN – North Queen Street – Sarah & Layne
Wells Fargo – Corner of West Orange and North Queen Streets – Second Chance to Play
North Prince Street
Prince Street Garage Piano – 111 North Prince Street – Amber Sweigert
Corner of North Prince and West Orange Streets
The Ware Center – 42 North Prince Street – Maria Arroyo
PCA&D – 204 North Prince Street – Lancaster County Folk Music & Fidler's society
East & West King Street
Courthouse Steps – 51 East King Street – Drum Circle
Silantra Stage – 101 East King Street – SWAN
Younger Reality Group – 44 West King Street – High Copper
Realm & Reason – 213 West King Street – MYSTYC
N. Lime, W. Walnut, & N. Water Streets
Lancaster Art Museum – 135 North Lime Street – Tony Gochnauer
The Artist Studio and Gallery – 24A West Walnut Street – Ragtime Willi
Zoetropolis – 112 North Water Street – Culture Trip Band
Make sure to follow Visit Lancaster City on Facebook and Instagram to stay updated on what's new and now in Lancaster City!