July 30, 2019

Eat, Drink, and Make Music at the First Ever Key Krawl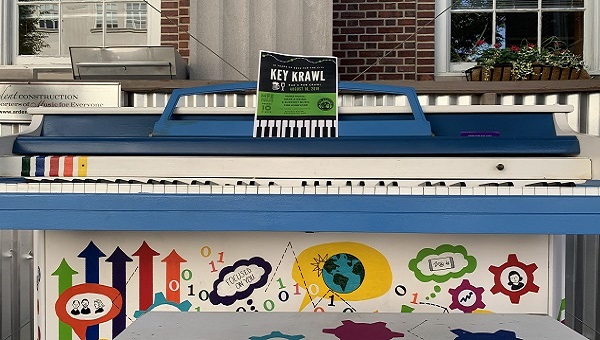 In celebration of the 10th anniversary of Keys for The City (the program that places pianos around Lancaster City), Music For Everyone is introducing Lancaster's first ever Key Krawl! Chances are that while walking around Lancaster, you've noticed the many pianos featured at key locations throughout the city. The Key Krawl takes place on Saturday, August 10th, and is a perfect way to explore the city's pubs and pianos!
For more info and to get tickets go to: www.2019KeyKrawl.eventbrite.com
Here's the list of participating locations:
551 West
Alley Kat
Altana Rooftop Lounge
American Bar & Grill
Annie Bailey's Irish Public House
Belvedere Inn
Brendee's Irish Pub
Decades
Federal Taphouse
Friendly Greek Bottle Shop
Imperial Bar
Lancaster Cigar Bar
Lancaster Dispensing Company
Max's Eatery
Molly's Pub
Quips Pub
Stubby's Bar and Grille
Tellus360
The Fridge
Show off your skills with the social media contest! Participants in the Key Krawl are encouraged to post a video of themselves and/or their group performing at one of the pianos along your pub route! All you have to do is post your performance on Instagram, tag the account @mfelancaster, (and use the hashtag #keykrawl2019), and wait to see if you're the winner!
There will be three categories up for prizes, the first is Best Performance, the second is Best Group Performance, and the third is Judge's Choice! Whether you're super talented or not so much, we want to see your skills!
Music for Everyone has partnered with New Belgium Brewing to create a signature brew for the event, called the Piano Pilsener! This new, exclusive brew can be found at all participating locations.
We hope to see you out and about for the Key Krawl! Remember, please drink responsibly and stay hydrated.
Music for Everyone is a 501(c)(3) non-profit charitable organization providing experiences in support of music education to transform the lives of everyone in Lancaster County. Learn more at their website here.
Make sure to follow Visit Lancaster City on Facebook and Instagram to stay updated on what's new and now in Lancaster City!