February 6, 2019

Date Night Spots in Lancaster City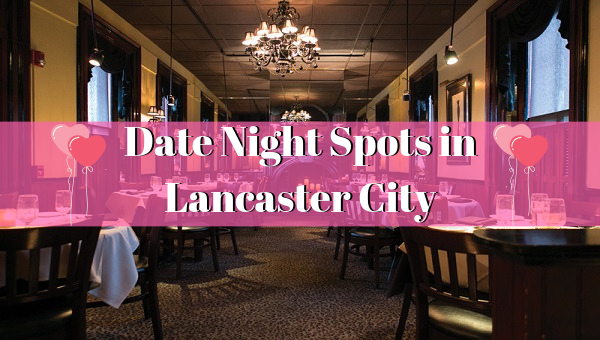 Things may not be quite as merry and bright since the holiday season ended, and the cold has hit the city. However, we can begin to look forward to the next holiday! A special day full of candy, teddy bears, balloons and of course…LOVE! No matter who you're spending Valentine's Day with, Lancaster City has tons of delicious and memorable date night dining options!
Here's a few of our favorites to check out:
Many of Lancaster City's restaurant owners are looking forward to Valentine's Day just like us. One of them being, Bistro Barberet & Bakery on E. King Street. This restaurant is home to a romantic atmosphere that is perfect for you and your valentine. From Wednesday, February 13th, to Saturday, February 16th, a special four course dinner menu will be available. A la carte items will be available for your enjoyment as well. Reservations are strongly recommended!
Make a reservation here. Visit their Facebook event here.
Galentines Day Alert: Every Wednesday visit Bistro Barberet and Bakery from 5-8pm for Ladies Night! Ladies can enjoy half off drinks, mini bar bites, and FREE fries!
Many of us know that date night is heavily dependent on the atmosphere of a restaurant. The newly opened Imperial, located within the Hotel Lancaster, channels its historic value through decor and atmosphere. Making it the perfect date night spot! Their menu strives to create a feast for your pallet and your eyes.
To look at their menu, click here. To make a reservation, call 717-399-4040
If you are looking for a restaurant that takes pride in combining the traditions of Italian food with the heritage of Lancaster County, LUCA is the perfect date night spot for you! Food, drink and family will be the focus of the night as you enjoy freshly sourced ingredients. Neapolitan-inspired pizzas and homemade pastas are just a few customer favorites on the menu. With plenty of options on their menu, both you and your sweetheart are bound to find the perfect dish!
Take a trip back to the "lunch counter style" of eating at this family friendly restaurant! You can enjoy many of your childhood favorites, but with a twist. Still have room after your meal? Split an alcoholic milk shake with you valentine. Reservations can be made here.
This award-winning restaurant features contemporary American cuisine and a relaxed environment. If you are looking for a romantic spot to impress your dinner date, then you have found it at the Belvedere Inn! Whether you prefer to dress up or down, everyone is welcome to wine and dine in the comfort of their hospitality. On Fridays and Saturdays, a live jazz band will be featured. Click here to see more specials.
In the heart of Lancaster City lies the Himalayan Curry and Grill. You can enjoy the perfect combination of Nepalese and Indian cuisine. Reservations are required on Friday and Saturday and are recommended every other night of the week. This is a B.Y.O.B. restaurant, so feel free to bring your date's favorite adult beverage to enjoy!
Attention all wine lovers, beer enthusiasts, and fine diners! Did that catch your eye? If so, then a night of wining and dining at POUR will be the perfect Valentine's evening for you. POUR is an upscale, casual bar, that provides a modern dining experience. Wine, beer, and cocktails compliment their seasonally changing food. To make a reservation, click here.
A place known for their delicious breakfasts and brunch-time favorites, Commonwealth on Queen will be open for a special Valentine's Pop-Up Dinner! Join in on the 3-course meal with global flavors on Thursday, February 14th from 5 – 9 pm. AND, it's B.Y.O.B. so bring your favorite adult beverage to mark the occasion.
You can email your reservation to cafe@commonwealthonqueen.com.



AND that's just a couple of the endless options for a special date night in the city! To see more restaurants, go to www.VisitLancasterCity.com/wine-dine.



Make sure to follow Visit Lancaster City on Facebook and Instagram to stay updated on what's new and now in Lancaster City!
Photo Credit: Nick Gould for Lancaster County Magazine