December 5, 2018

Come 'Shop Late' in Lancaster City on Dec. 13th!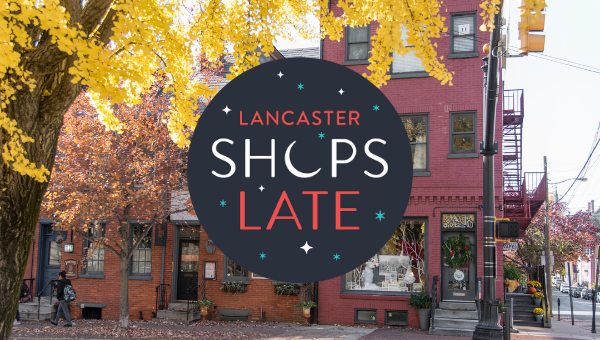 Come 'Shop Late' in Lancaster City! Whether it's last minute holiday shopping or a much-needed night on the town, Lancaster Shops Late is the perfect excuse to explore what Lancaster City has to offer!
The 2nd Annual "Lancaster Shops Late" will feature over 50 shops, galleries, and businesses that will stay open into the evening (9pm or later) so you can find the perfect gift for everyone on your list. With the largest amount of shop-participation to date, roaming music acts, and special events and deals at select locations, you won't want to miss it!
The Lancaster City Art Galleries will be hosting a "Hot Cocoa Tasting Party" where participants will serve hot cocoa into the evening while attendees peruse the galleries. "Lancaster Shops Late" is also partnering with the 300 Block of North Queen Street with over 20 merchants participating in this festive event from the Block.
Ellicott & Co. will host a "Ladies' Night" in which staff will assist with finding the perfect gift for the men in your life. The event will also feature live music, a trunk show with Sophie Stargazer Boutique, free gift wrapping, and 10–30% off at the register.
Shot & Bottle will also be offering specials all day including gift card bonuses of a $5 gift card for purchasing a $25 gift card and a $10 gift card for purchasing a $50 gift card. They are located right on Penn Square at 2 N. Queen St.
Nicole Taylor Boutique is partnering with Baldwin's Dirty Little People Gallery to put on a Pop-Up Show. The Show will feature handmade items created by local artisans. The Pop-Up will be held from 5:30 to 9pm at 325 N. Queen St.
The City of Lancaster Office of Promotion, Lancaster City Alliance, and Music for Everyone are sponsoring roaming entertainment including Big Boy Brass and local holiday carolers! Lancaster Shops Late emerged through the suggestion of artist Loryn Spangler Jones of LSJ Studios. She grew up in a town that held a late-night shopping event every holiday season. We're thankful for her idea and enthusiasm in making Shops Late happen in Lancaster City!
AND don't forget to check out @VisitLancCity's Instagram for daily spotlight posts on participating shops, galleries, and more!
For a full list of participating locations, please visit: visitlancastercity.com/lancaster-city-for-the-holidays/lancaster-shops-late/