October 11, 2017

Artist Bio: Megan Zettlemoyer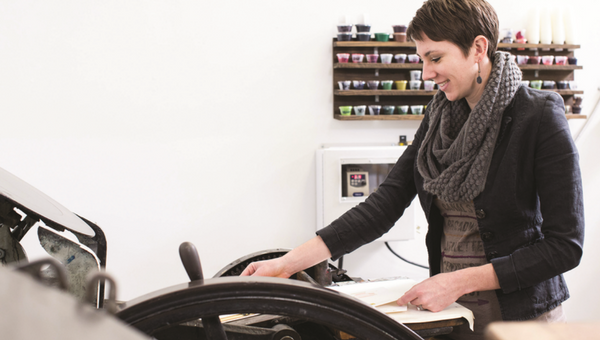 On Thursday, October 26, 2017, the Governor's Awards for the Arts in Pennsylvania will be held in Lancaster City. It is a great honor to be chosen to host the awards, and in celebration, the Lancaster arts community has rallied together to put on a week of events. Leading up to the week, we'll be highlighting a handful of amazing individuals that make up the Lancaster arts community. Today we're talking to Megan Zettlemoyer of Typothecary Letterpress.
How are you involved with the 2017 Governor's Awards for the Arts?
I first got involved through an Artist Mixer. We're at a location in town that I want to try to get people to come to the building. That's why I've participated in things like Art Walk.
I'm planning on being open that week for people to come through and I'll have presses set up for people to print on.
Typothecary Letterpress
420 West Grant Street
Saturday, October 21 from 10 AM – 4 PM
Tuesday, October 24 from 10 AM – 5 PM
Thursday, October 26 from 10 AM – 6:30 PM
What made you pursue art?
I would have gone to school for fine arts if I could have, but I needed more structure, so I chose graphic design, a commercial art. I knew I would be able to find a job.
Tell me about your current projects:
This week I've printed coasters, business cards, custom picture frame mats, invitations. We just did Print Walk at First Friday which was a huge project that just wrapped up.
Lancaster native or Transplant:
Transplant, from the Reading area. My business has been here for two years, and I teach at typography and branding at PCA&D.
What do you love about Lancaster / the Lancaster community?
Everybody is so friendly and welcoming. I've been blown away at how welcoming everyone is. There's such an amazing, strong arts community in Lancaster. That's why I chose to move down here.
As the art scene in Lancaster continues to grow, what do you think lies ahead for art in Lancaster.
As artsy as it is, there's still plenty of room for it to grow. The art community is so collaborative and as it grows there's more opportunity for collaboration. I think more and more artists are going to do work together, which I think is awesome to see people putting together their different mediums to create something extra awesome.
What local organizations or groups are you involved with?
AIGA, the professional organization for graphic artists, and the 918 Club, the local letterpress club.
In what ways do you see art and community intersect in Lancaster?  
As far as public art, I know there is a big push going on for public art. I feel like when you walk around town and see public art it just makes the individual artist community much stronger because people see that and realize that this is a community that appreciates art and is willing to spend money on it and make it part of their budget. I think that alone plays a huge role.
For more information about the 2017 Governor's Awards for the Arts in Pennsylvania, go to www.pagovartslanc.com.