November 22, 2017

2017 Mayor's Tree Lighting & Tuba Christmas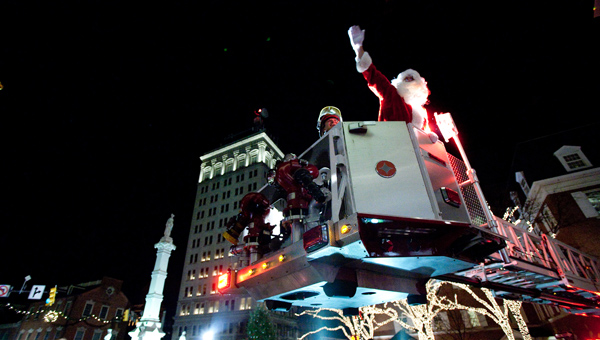 The Mayor's Tree Lighting and Tuba Christmas annually marks the beginning of the holidays here in Lancaster City. That night, there's a special visit from Santa, bright lights, vibrant music, and horse-drawn carriage rides.
This year is extra special, as it is Mayor J. Richard Gray's last Tree Lighting as the Mayor of Lancaster.
"This will be my last tree lighting as mayor. Wouldn't you know, just as I got good at it, I'm done! I'm hoping for great weather and a good crowd to kick off the holiday season," said Mayor Gray.
The year's tree was donated to the City of Lancaster by Randy Garner of Lititz.
"It was a win-win for me. It's a beautiful tree," Garner said, and he is happy that his 35 foot blue spruce can contribute to the holiday tradition.
Jim Bower, the City Arborist, has been assisting with the tree in Penn Square since 1989. He makes the final call in selecting the tree.
"When picking the tree, it's kind of like a Goldilocks situation. You have to find one that's just right. I looked at around 25 trees, and this one was it," Bower said.
The Lancaster City Parks Department works hard every year to make sure setting up the tree goes smoothly and is maintained throughout the season. Once the holidays are over and the tree is taken down, it is used for mulch in the City's parks, says Bower.
The nonprofit LEADS has been helping secure the tree and decorate it since 2013 says LEADS President, Marty Hulse. LEADS is an all-volunteer organization that works to beautify Lancaster City every season. Each year they coordinate the hanging flower baskets in the summer and work on holiday decorations and the Tree Lighting in the winter.
The 2017 Mayor's Tree Lighting is Friday, November 24 at 5:00 p.m. in Penn Square. For more holiday events, go to www.visitlancastercity.com/lancaster-city-for-the-holidays.