April 21, 2023

10 Reasons to Visit Lancaster City This Summer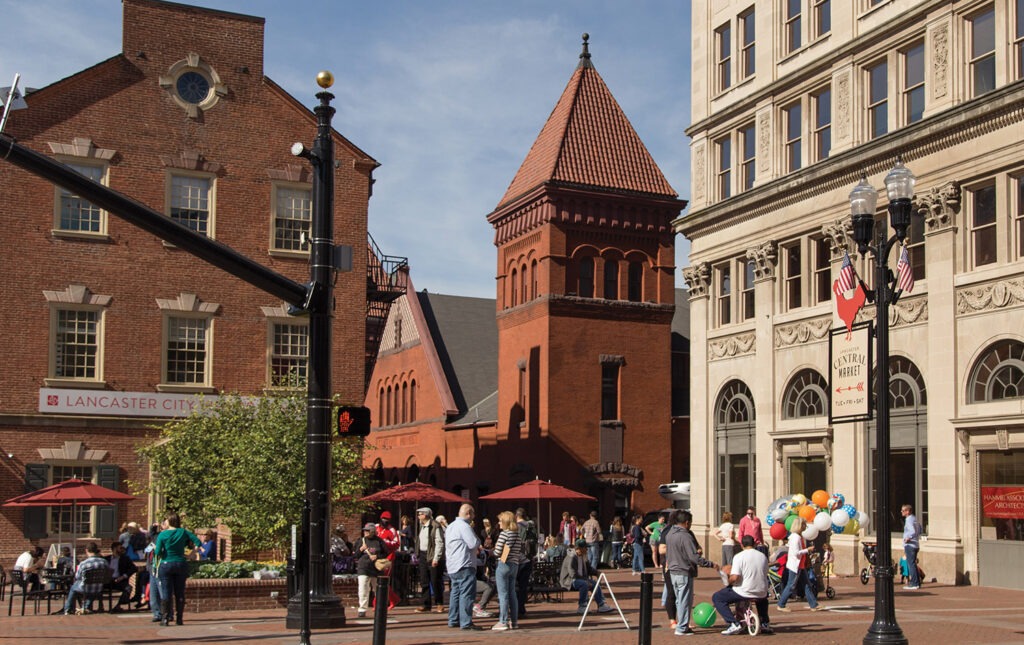 Lancaster City, Pennsylvania is a charming and historic destination that offers visitors a unique blend of traditional and modern attractions. Here are 10 reasons to visit Lancaster City.
The Welcome Center
Lancaster City Welcome Center is a great starting point for anyone visiting the area. Built in the late 1700's, the Welcome Center was once the Old City Hall. The center provides free maps and brochures highlighting the attractions and things to do in Lancaster City and the surrounding area. The staff at the center are knowledgeable about the area and can answer questions about local attractions, events, and more. The center has an art gallery and gift shop offering a variety of souvenirs, including t-shirts, mugs, and handmade items featuring local artists.
Unique Shopping
Shopping in downtown can be a great experience for visitors and locals alike. There are plenty of shops and boutiques to explore, ranging from vintage to hand-crafted items. Check out the 300 block of North Queen Street, where you can find many of our local shops.
Historic Downtown
The city's downtown area is filled with preserved historical buildings, quaint shops, and restaurants serving local and global flavors. Explore historic attractions and learn about the city's history on a Historic Lancaster Walking Tour. Walking tours can be booked inside the Welcome Center.
Lancaster Central Market & Southern Market
The Central Market is a bustling indoor market which happens to be the oldest continuously operating farmers market in the US. With 60+ vendors they offer a wide variety of fresh produce, meats, baked goods, and ready to eat foods.
Built as a farmers' market in 1888, Southern Market is now a food hall that houses 10 local vendors that serve up their own specialty fare, including local, regional, and international.
Art Galleries
The city is home to a vibrant arts scene, with numerous galleries showcasing the works of local and national artists. Explore Gallery Row, a block dedicated to local galleries.
Museums
Visit Lancaster History and see President James Buchanan's home and learn about abolitionist and Congressman Thaddeus Stevens. There are hands-on museums for children such as the North Museum of Nature and Science and the Lancaster Science Factory. For local art and history, check out the Demuth Museum. Our city's newest edition, Lancaster Medical Heritage Museum, showcases exhibits on Lancaster County's medical history.
Parks and Gardens
The city has a variety of parks and gardens, including Buchanan Park which offers natural scenery and recreational opportunities. There is also the Demuth Garden which served as an inspiration to artist and Lancastrian, Charles Demuth.
Performing Arts
Lancaster City has a thriving performing arts scene, with the Fulton Theatre as the oldest continuously operating theatre in the country and performing art centers that showcase local talent such as the Ware Center.
Breweries and Distilleries
The city has a growing craft beer and spirits industry, with several breweries and distilleries offering tours and tastings.
Events and Festivals
Lancaster City hosts numerous events and festivals throughout the year, including Celebrate Lancaster, the Mayor's Tree Lighting and New Years Eve Red Rose Drop. There are also cultural celebrations throughout the year including the Hispanic Heritage Festival. At our festivals, music performances, food trucks and vendors line the streets for family fun to be had by all.