Convergence + Coincidence: works by Becky Blosser & Justin Phillips at curio.
December 2, 2022 @ 10:00 am

-

8:00 pm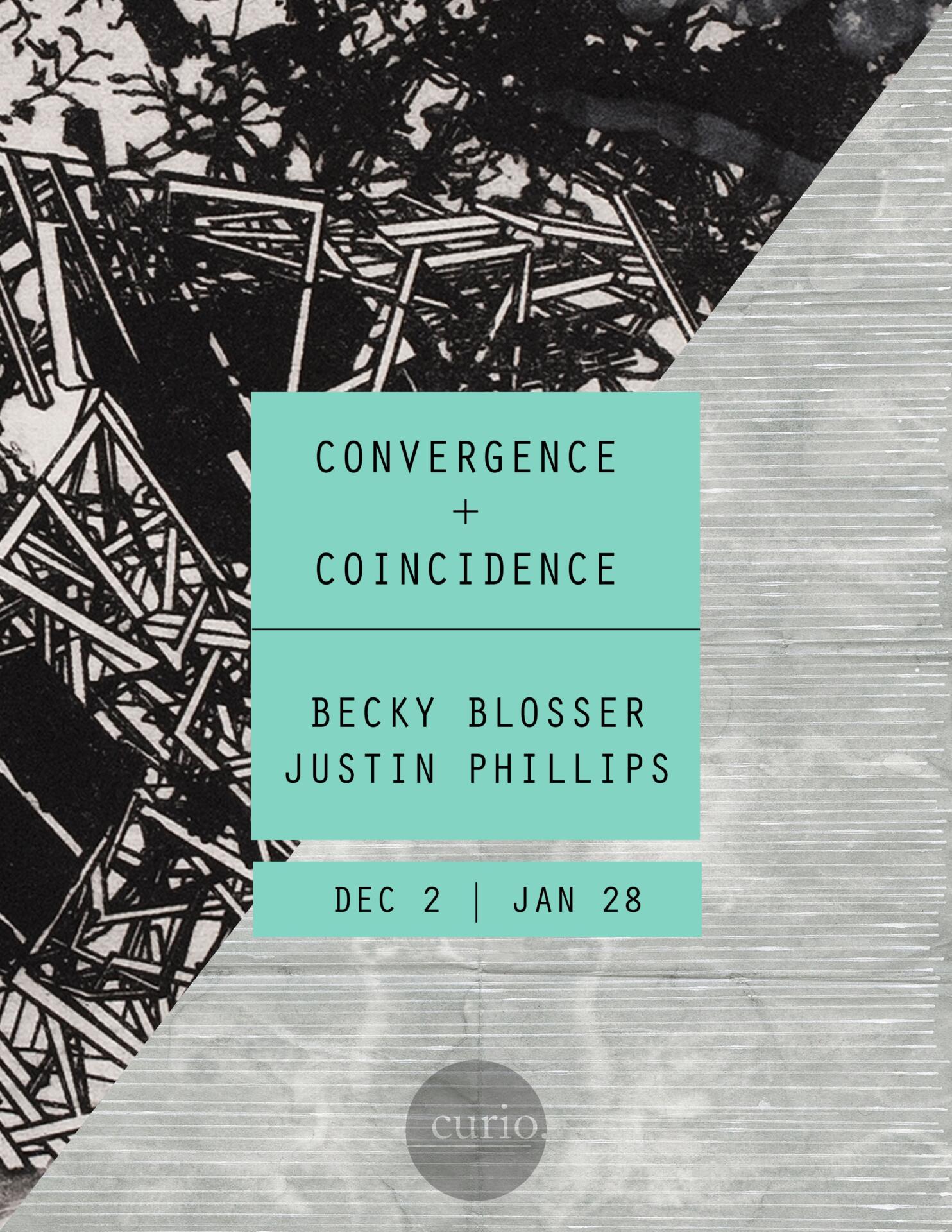 When two lines meet, they form an intersection, point, juncture, or joint. This place of meeting becomes significant for the creator of the line as it marks the moment where two processes were joined together, if only for a moment. The action that comes next can't help but be informed by this meeting. Do the lines end there, or are they still able to reach their intended destination in the same way they would have had the intersection never taken place? Or are they immediately connected to the convergence in a fundamental way, forever changed by the existence of meeting one another? Sometimes lines run their length, meeting their completion without knowing another exists until being brought together by another element, a coincidence.
The works in this exhibition speak in a coincidental language. Shape ◼️, s p a c e, ___line___, weight, these are words and symbols that are both ancient and contemporary, signifiers of existence. Used in different ways by both artists though parallel in their meanings, a revelry in their similarity, and a celebration in their individuality.
Beckly Blosser shows us densely built heaps of lines that form architectural structures simultaneously containing an organic chaos while also being overtaken by it. A play of automatic decision making and considered organization are at work in her prints. Like a schematic showing how to contain one's own thoughts while purposely leaving opportunity for escape.
Justin Phillips manipulates the physical characteristics of surface before traversing the distance of a sheet of rice paper with thoughtful lines. Folded into smaller forms before being repeatedly introduced to fluid mediums, only upon returning the surface to its original state of being can the topographic and sometimes nebulous effect of the dyeing process be revealed. This process brings an understanding that the work does not simply exist on the paper's outermost layer, but is infused into the very fiber of the surface as well.
Convergence + Coincidence are governing factors that shape a multitude of pathways in our lives. This collection of works is meant to focus our attention to the power of connection and highlight the point at which these two lines meet.
List Your Event
Hosting a public event in Lancaster City? Submit your event to appear in our event calendar.
Submit an Event