November 26, 2022

Small Business Saturday
Shop Small in Lancaster City!
Shop small this holiday season and support Lancaster City's fabulous small business community! Find the perfect gifts at one of Lancaster's eclectic shops, boutiques, galleries, and more!
Small Business Saturday is presented by the City of Lancaster and the Lancaster City Alliance.
The 300 Block of North Queen Street and Neighboring Shops
300 block of North Queen Street
300blockshops.com
Most shops will offer special promotions and/or extended hours.
551 West
551 W. King Street
Show your red Small Business Saturday shopping bag for 10% off food purchase.
A Concrete Rose Bookbar Co.
910 S. Duke Street
Bottled wine debut. Branded merchandise on sale. Custom holiday gift baskets available. Books on sale up to 50% off.
A Day In The Life Records
24A W. Walnut Street
adayintheliferecords.com
Angry Young and Poor
356 W. Orange Street
angryyoungandpoor.com
Entire store on sale! Record Store Day releases.
Bellaboo
32 N. Queen Street
bellabooonline.com
Bistro Barberet and Bakery
26 E. King Street
Boutique Tana Kaya
305 N. Queen Street
Mystery discounts up to 30% off at checkout.
BUiLDiNG CHARACTER
342 N. Queen Street
Butter And Bean
Southern Market
100 S. Queen Street
$1 off retail bags of coffee. $1 off retail boxes of teas.
Central Market Flowers on King
5 W. King Street
20% off entire store. Get $20 Bonus Bucks with every $100 in gift card purchases.
Central Market Flowers on Queen
258 N. Queen Street
20% off entire store. Get $20 Bonus Bucks with every $100 in gift card purchases.
CHYATEE
101 N. Queen Street
Early bird shoppers (9–11AM) receive free eco-tote and 20% off entire purchase. Female crafters in-store pop-up 10AM–6PM.
CI Records & Skates
112 W. Orange Street
cirecordsandskates.com
$15 album credit with turntable purchase. 25% off skate clothing. Free standard grip tape & assembly with purchase of complete skateboard.
curio. Gallery & Creative Supply
106 W. Chestnut Street
curiolancaster.square.site
Free curio. mug (designed by us!) with any purchase over $50.
Decades Lancaster
438 N. Queen Street
Gift cards and branded merchandise on sale.
Details
30 N. Queen Street
detailslancaster.com
Ellicott & Co.
45 N. Market Street
20% off entire store excluding Red Wing Boots.
FARBO Co
9 W. Grant Street
farboco.com
Roll 5d6-percent off on purchases totaling $50 or more (hat's the sum of five six-sided dice. Mathemagical!)
Festoon
202 N. Duke Street
Francois Byers playing our beautiful Baby Grand Piano
Foxduck
11 W. King Street
Small Business Basket Raffle.
The Framing Concept
328 N. Queen Street
theframingconcept.com
Freiman Stoltzfus Gallery
142 N Prince St
freimanstoltzfus.com
20% off all prints (paper or canvas, frame or unframed) in the gallery. Order 10 or more of the same Christmas card before 11/26 and receive 50% off.
Gallery on Market
15 W. King Street
Drawing for a hand painted poinsettia bowl.
Halo & Ree
30 W. James Street
10% off.
J A Sharp Custom Jeweler
322 N. Queen Street
10% off on all in-store items excluding custom and repair work.
J. Hilburn
34 N. Queen Street
lisatorba.jhilburn.com
Free style and measurement consulations.
James Street MedSpa
459 N. Prince Street
15% off all products. Free gift with $150 product purchase. Gift cards on sale.
Lancaster Barnstormers
650 N. Prince Street
lancasterbarnstormers.com
Team store on sale up to 50% off. Ticket packages available.
Lancaster Cupcake
24 W Orange Street
Open late. Offering delicious cupcakes, milkshakes, drinks, and more. Gluten free and vegan options available.
Lancaster Distilleries
Central Market and 112 N. Water Street
lancasterdistilleries.com
Bottles sales 11AM–11PM. Gift box raffle.
Lancaster Gift Box
317 N. Queen Street
lancastergiftbox.com
Gift box raffle. Free gift wrapping with $50+ purchase.
Lancaster Museum of Art
135 N. Lime Street
demuth.org
Holiday Gift Shop open featuring goods from local artists and businesses! Curated gift boxes available.
Lancaster Sweet Shoppe
141 N. Duke Street
lancastersweetshoppe.com
Larkstone
213 W. King Street
shoplarkstone.com
20% off anything that fits in our holiday stocking.
LSJ Studios
104 W. Chestnut Street
lsjmixedmedia.com
Receive a $10 gift card for every $50 spent.
Madcap & Co.
310 N Queen Street
madcapandco.com
My Aunt Debbie
336 N. Queen Street
Gift basket raffle.
Nicole Taylor Boutique
325 N. Queen Street
nicoletaylorboutique.com
Up to 90% off the entire store. Some exclusions apply.
Nook Books
50 N. Queen Street
nookbooks.shop
Free tote with purchases over $100. Nook Sweatshirt, Hat & Book bundle raffle.
Passenger Coffee
7 W. King Street
passengercoffee.com
10% off branded merchandise.
Penn Stone
190 W. Ross Street
pennstone.com
Sales throughout the store. Complimentary mimosas and pastries.
Pennsylvania Guild of Craftsmen
335 N. Queen Street
Pocket Books Shop
903 Wheatland Ave
pocketbooksshop.com
Coffee, hot cider, and hot cocoa available. Raffle entry with each $25 purchase.
Prince Street Cafe
15 N. Prince Street
princestreetcafe.com
10% off branded merchandise.
Rachel's Cafe and Creperie
201 W. Walnut Street
rachelscreperie.com
Discount when you show a receipt from a small business.
Radiance
13 W. Grant Street
herbsfromthelabyrinth.com
Read Rose Books
23 N. Prince Street
15% off Peruvian fair trade items. Sidewalk sale (weather permitting.)
Red Raven Art Company
138 N. Prince Street
redravenartcompany.com
Free gift for first 50 shoppers.
RIJUICE
Lancaster Central Market
rijuice.com
Any 2 10oz bottles for $6.00.
Silantra Asian Street Kitchen
101 E. King Street
Sophie Stargazer Boutique
323 N. Queen Street
sophiestargazer.com
BOGO deals on gifts and matching sets. Mystery gift bags. In-store book signings by Amber Kane and Ashley Sollenberger. Hot cider and cookies.
Space
24 W. Walnut Street
spacelancaster.com
Square One Coffee
145 N. Duke Street
squareonecoffee.com
20% off select merchandise and home brewing equipment.
Sweetish
301 N Queen Street
sweetishcandy.com
Special in store sales, giveaways, and more. Free hot Swedish glogg while you shop. Free samples.
Telltale Dress
334 N. Queen Street
telltaledress.com
Free matchbox with purchase of a jar candle or any purchase over $50. Special hand-painted gift tag & greens with purchase.
Tellus 360
24 E. King Street
Free first drink at the bar when you show a receipt from a small business. Local art market 12PM–4PM.
The Scarlet Willow
320 N. Queen Street
thescarletwillow.com
Exclusive sales. The Scarlet Willow swag items on sale.
The Shoppe at AK Interiors
246 W. Orange Street
akinteriorsllc.com
10% off entire purchase.
The Spice & Tea Exchange
20 W. Orange Street
Discounts and tea tastings.
Tiny Town
533 Janet Avenue
5 Visit Punch card, good for 5 open play visits, on sale for $65 ($130 value.)
Universole LLC
101 N. Queen Street
universolelancaster.com
Discounts on Jordans and Essentials.
Ville & Rue
8 W. King Street
villeandrue.com
Extended hours, refreshments, and giveaways.
Zanzibar
21 W. King Street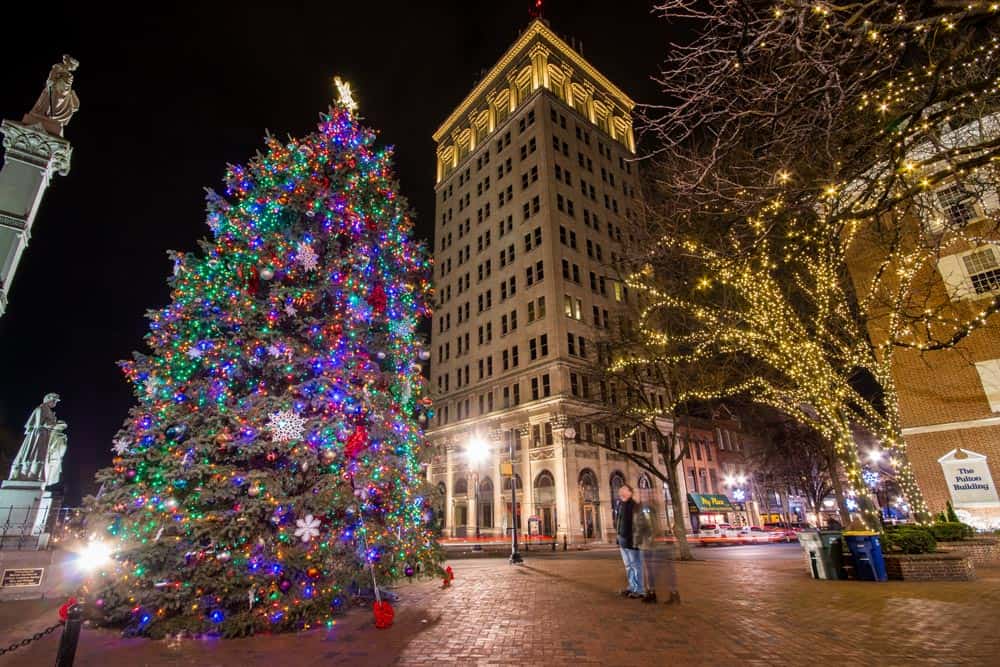 Explore the magic of the holiday season in Lancaster City!