November 27, 2021

Small Business Saturday
Shop Small in Lancaster City!
Shop small this holiday season and support Lancaster City's fabulous small business community! Find the perfect gifts at one of Lancaster's eclectic shops, boutiques, galleries, and more!
Small Business Saturday is presented by the City of Lancaster and the Lancaster City Alliance.
A Day In The Life Records
24A W Walnut St
Alley Kat
30 W Lemon St
Baldwin's Gallery @ Altana
26 E King St
Special shopping event with hot chocolate bar, vendors with handmade items, swag bags for guests and special discounts on art. 12–3PM
Bistro Barberet & Bakery
26 E King St
Boutique Tana Kaya
305 N Queen St
Free socks with $100 purchase.
Building Character
342 N Queen St
Extended hours.
Cross Keys Wood Works
34 N Queen St
curio. Gallery & Creative Supply
106 W Chestnut St
Free art supply with purchase. Exclusive tote bag release. Free tote bag with $100 purchase.
Demuth Foundation
135 N Lime St
Holiday Pop-Up Gift Shop by Details. All purchases support local artists, businesses, and the Lancaster Museum of Art.
Ellicott & Co.
45 N Market St
20% off storewide (some exclusions apply.) Extended hours.
Festoon
202 N Duke St
Francois Byers playing the baby grand piano.
Foxduck
11 W King St
Raffle entry with $30+ purchase.
Freiman Stoltzfus Gallery
142 N Prince St
15% off in-stock prints.
Gallery Grow Plant Bar
150 N Prince St
10% off all in-stock merchandise and terrarium projects (excludes gift cards.)
Hempfield Botanicals
hempfieldbotanicals.com
20% off. Double reward points. Use code ShopSmall2021.
J.A. Sharp Custom Jeweler
322 N Queen St
Pre-packaged homemade cookies are back for the holiday season!
James Street MedSpa
459 N Prince St
15% off all products. Gift card discounts. Free gift with purchase.
Lancaster Cupcake
24 W Orange St
Cupcake 6-pack on sale for $15
Lancaster Galleries
34 N Water St
Free unframed local print when mentioning Small Business Saturday.
Laura z Tai
101 N Queen St Suite 111
Extended hours. In-store deals.
Lemon Street Market
241 W Lemon St
LSJ Studios
104 W Chestnut St 2nd Floor
Madcap & Co.
310 N Queen St
Extended hours.
Makes Scents Natural Spa Line
makesscentsspaline.com
20% off. Use coupon code SHOPSMALL2021.
Max's Eatery
38 W King St
Miesse Candies
118 N Water St #102
10% off purchases of one (1) pound or more.
Move It Studio
33 N Market St Suite 200
Discounts. Free refreshments.
My Aunt Debbie
336 N Queen St
Free refreshments. Free gift with purchase.
Nicole Taylor Boutique
325 N Queen St
Doorbuster sales. Buy One Get One sales. Giveaways.
Penn Stone Outdoor Living
190 W Ross St
40% off select in-store items. 20% off most outdoor furniture. Free refreshments.
Pennsylvania Guild of Craftsmen
335 N Queen St
Pursenality Handbag Shop
217 E King St
Buy One Get One 50% off
Read Rose Books
23 N Prince St
Spend $10, get $10 off next $50 purchase.
Reclaim Teas
reclaimteas.com
20% off all teas.
Red Raven Art Company
138 N Prince St
Stop in to check out the exhibit and get your chance to win one of 50 free items from our Secret Santa Bag of goodies!
The Shoppe at AK Interiors
246 W Orange St
20% off. Giveaways. Free refreshments.
Sophie Stargazer Boutique
323 N Queen St
Free refreshments. Free gift with purchase.
Space
24 W Walnut St
Extended hours.
The Spice & Tea Exchange
20 W Orange St
Holiday bundles. Special discounts.
Sweetish
356 N Queen St
Free samples. Buy One get One sales. Discounts.
Telltale Dress
334 N Queen St
Extended hours. Free holiday greens with purchase while supplies last.
Trinity Jewelry Company
trinityjewelrycompany.com
Buy One Get One Free with code HOLIDAY.
Ville & Rue
8 W King St Suite 816
10% off storewide. Raffles.
Wish You Well Bakery
47 N Queen St
Discounted store merchandise. $5 off gift cards over $50.
Zanzibar
21 W King St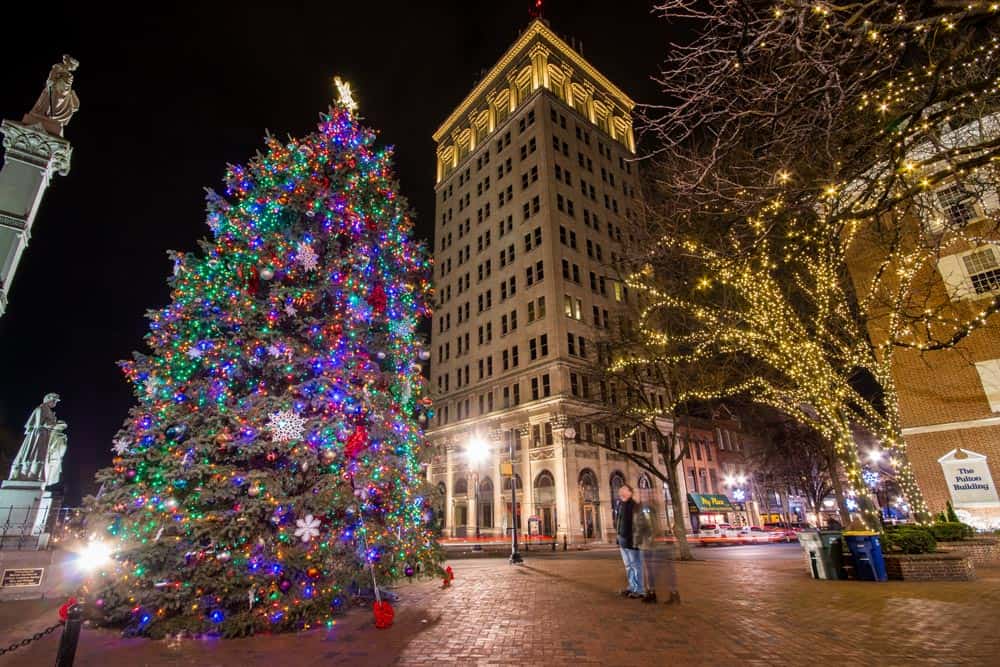 Explore the magic of the holiday season in Lancaster City!