December 10, 2020

Lancaster Shops Late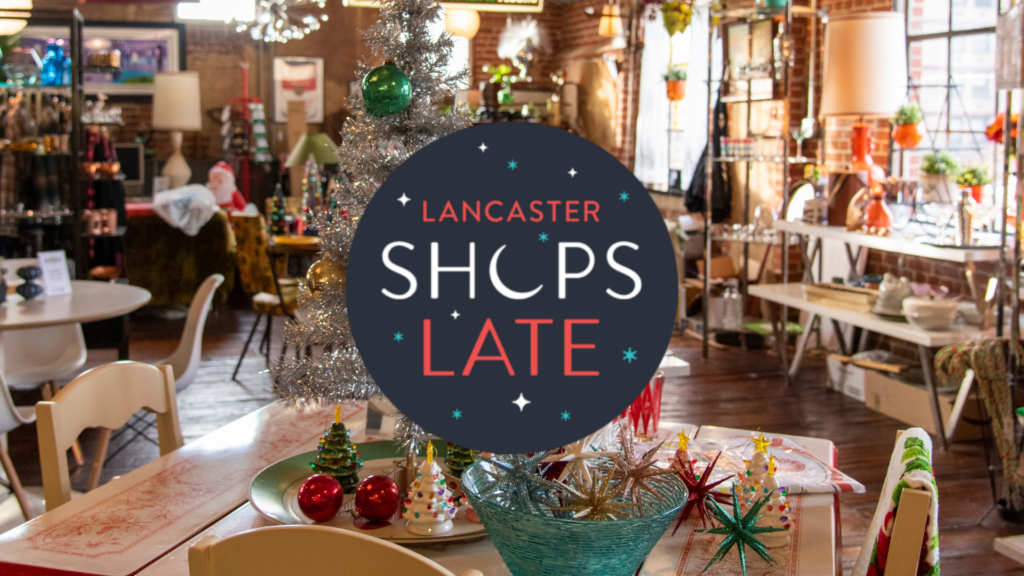 Shop Small for the Holidays in Lancaster City
The annual Lancaster Shops Late night is Thursday, December 10th, 2020! Lancaster Shops Late is a once-a-year retail experience where shops are encouraged to stay open into the evening, bringing visitors downtown to dine and of course, shop! Presented by the Lancaster Office of Promotion and the Lancaster City Alliance.
Participating locations will be open from 5 to 9 pm or later!
Here's a list of participating locations:
Updated 12/10/20 – Lancaster City merchants can sign up here.
Alley Kat
www.alleykatbar.com/
30 W. Lemon St.
Art & Glassworks
www.artandglassworks.com/
319 N. Queen St.
BUiLDiNG CHARACTER
www.buildingcharacter.biz/
342 N. Queen St., Warehouse B
CI Records and Skates
www.cirecords.com/
112 W. Orange St.
City Ballroom Dance Studio
www.cityballroom.com/
420 W. Grant St.
Cross Keys Wood Works
www.facebook.com/Cross-Keys-Wood-Works-979142002276902/
34 N. Queen St.
curio. Gallery & Creative Supply
curiolancaster.square.site/shop
106 W. Chestnut St.
Details
detailslancaster.com
30 N. Duke St.
Ellicott & Co.
www.ellicott.co/
45 N. Market St.
Festoon
Shopfestoon.com
202 N. Duke St.
Foxduck
Foxduck.com
11 W. King St.
The Framing Concept
www.theframingconcept.com
328 N. Queen St.
Good Life Organics
www.goodlifejuicebar.com/
301 N. Queen St.
Hempfield Botanicals
hempfieldbotanicals.com/
336 N. Charlotte St.
Lancaster Galleries
lancastergalleries.com/
34 N. Water St.
Lush Bazaar
lushbazaar.square.site/
101 N. Queen St.
Madcap & Co.
madcapandco.com/
310 N. Queen St.
Makes Scents Natural Spa Line
makesscentsspaline.com
336 N. Charlotte St.
My Aunt Debbie
www.etsy.com/shop/ilovemyauntdebbie
336 N. Queen St.
Nicole Taylor Boutique
Nicoletaylorboutique.com
325 N. Queen St.
Our Town Brewery
ourtownbrewery.com/
252 N. Prince St.
Pennsylvania Guild of Craftsmen
www.pacrafts.org/
335 N. Queen St.
Red Raven Art Company
www.redravenartcompany.com
138 N. Prince St.
Seasons Olive Oil & Vinegar Taproom
seasonsinstorepickup.square.site/
36 W. King St.
The Shoppe at AK Interiors
akinteriorsllc.com
246 W. Orange St.
The Spice & Tea Exchange
www.spiceandtea.com/lancaster
20 W. Orange St.
Sweetish Candy
www.sweetishcandy.com/
356 N. Queen St.
Telltale Dress
www.telltaledress.com/
334 N. Queen St.
Tiny Town
tinytownpa.com
533 Janet Ave.
Ville + Rue
villeandrue.com
101 N. Queen St., Suite 99
Wyndrige Farm
wyndridge.com/
398 Harrisburg Pike
Zanzibar Romancing Your Senses
www.zanzibarshop.com/
21 W. King St.
551 West
551westrestaurant.com
551 W. King St.
See everything happening in Lancaster City for the Holidays