Shopping
East Side Market at Musser Park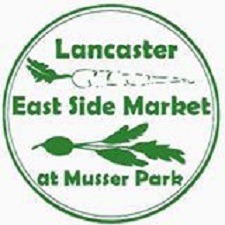 East Side Market-Lancaster City-Musser Park. From May to October we provide locally grown produce, fruits, meats, cheeses, baked goods,music and artwork.
East Side Market seeks to be a vibrant community market on the east side of Lancaster city. As as open air market with a variety of vendors we encourage anyone to join us in selling locally grown and produced veggies, fruits, meats, cheeses, baked goods, handmade crafts and artwork. We welcome participation in running or attending our free weekly workshops and classes. East Side Market works to create a family friendly feel with music every week and different community events such as our monthly art market and seasonal festivals. We are excited to partner and work more closely with other local groups and businesses to host and create more community events. We strive to be an outside, fun, Sunday/ weekend destination that fosters excitement to be outside, at a market.
More Lancaster City

Shopping