Shopping
Prana Functional Manual Therapy LLC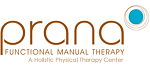 A holistic physical therapy center
At Prana Functional Manual Therapy we treat the whole body. Our goal is to work with you one-on-one to develop a personalized treatment plan to awaken your vital energy so you can be at your best. We believe everyone has untapped potential to become more empowered, stronger, and pain-free. We explore, identify, and treat the underlying causes of pain and dysfunction, rather than simply alleviating your symptoms.
We are highly trained and certified specialists who will focus on your physical improvement while acknowledging the effects of mental, emotional and spiritual stresses on your body.
We are dedicated to bringing our knowledge and treatment strategies alive through our verbal cues and physical touch with the utmost respect and integrity.
We feel it is a privilege and honor to aid our patients with their rehabilitative process, and have set high standards for ourselves to be life-long learners of physical therapy interventions and interpersonal relationship skills.
Our goals are your goals. This requires a team approach between therapist and patient…and a little bit of fun!
More Lancaster City

Shopping