May 8, 2021

Peanut Butter and Pandemic Parenting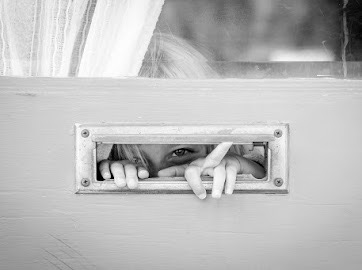 "Mom, I'm going to need you to be quiet. I'm on a work call," is something I hear often from my three-year-old, Molly, lately. You, and Sadie, please." Sadie is six months. I returned to work from maternity leave three weeks prior to shutdown, starting to navigate work and home life with two kids, and a new boss. Molly has a stuffed dog and flamingo lined up on the steps outside, prepping for her pretend video call on a pink plastic phone. "This is important, mom."
I start the day with two mugs of coffee- one to inhale, one to sip and leave somewhere around the house. I grab a stack of rainbow construction paper and a glue stick, nurse my 6-month-old, eat a banana with peanut butter and start cutting shapes for crafts. I log into emails, knowing that my best chance for a semi-uninterrupted thought is between 5:15am-7:00am. I text family members back. My kids are not at an age that I can say, "I'll be working in the office!" and close the door. We're together for every email, phone call and video chat. A lot of energy goes into getting set for a call, then hoping it goes well. I have strawberry yogurt on my sweatshirt (I think that's what that is), Sadie on my hip and Molly's blunt blonde bangs show in our square on screen. Everyone can hear a little voice asking for more graham crackers. Or ranch dip for chips. Or to go back outside.
On video calls, I've made mac and cheese, nursed and pumped (video off), bottle fed, changed diapers, put the baby down for a nap, run up two flights to wake Sadie from nap while holding an iPad and talking to a JP McCaskey student group about a Music Friday, set up a sprinkler, decorated paper hats, wheeled Sadie around the living room in a stroller ("I'm listening, I'm just off screen!"), set off the smoke alarm making a tortilla, fished a toy apple out of the toilet and what feels unfortunate, played more Daniel Tiger on TV than ever. Once, I paused for a screaming fit because Molly got her head stuck in a superhero costume. "I. Need. Your. Help!!!"
Now, where were we?
My husband, Mason, was home early on in quarantine, which was excellent. He works in the healthcare system. His hours keep him away from home so often and now he could join us for family walks, playing blocks, and has become quite the quarantine chef. (Ask for the pad Thai with pork, it's delicious). He got a smoker and now does research on rubs, telling me about smoker cook times when the kids are in bed. "Are you even listening?" he asks. "I was in the beginning!" We collapse on the couch for twenty minutes of The Office reruns, and end almost every day with, "I think we're doing alright."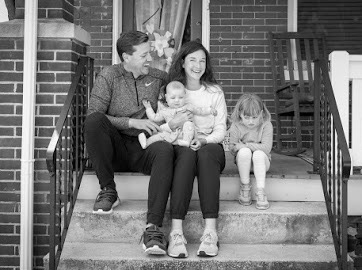 Often in parenthood, we have moments of "am I doing this right?" With everything we have thrown into the mix between work and momming, I feel that a lot right now. I wish I could give full attention in both areas, but it is more of a distracted combination, with extra gummy candy and too much TV sprinkled in there. And it is okay.
We've used the steps at Reynolds Middle School as a stage to sing Trolls songs, scavenger hunted heart shapes in our neighborhood, rolled down the hill at Buchanan Park, played hopscotch, delivered cards to friends, baked flat cookies, painted rocks, run in empty fields, listened to music on the porch, FaceTimed cousins and tried kid yoga. We've started planning a quarantine fourth birthday. We've made a lot of messes.
"Just one more minute, Molly! I promise I'm almost finished!"
When people talk about slowing down, watching Netflix series, or organizing the house, that's the opposite of my experience but each has its own challenges. I feel for those who are lonely. Video calls have become truth circles. It's okay to admit you are worried about your parents, miss friends or confess you're operating on fumes.
By Friday, I look forward to two whole days to log off and give my daughters the undivided attention they crave all day, every day. It's confusing for a three-year-old to have me home but working. There have been plenty of tears and tantrums. We've had to explain germs and social distancing which backfired once, and Molly wouldn't let us near her. I called my aunt once and said, "I just need you to tell me I'm not a bad mom."
I am grateful to work with supportive, understanding people and though we're apart, it still feels like a team. We work hard to bring uplifting activity to our community to look forward to, even in quarantine. We are adapting First Fridays, the Red Rose Run, Music Fridays, Celebrate Lancaster, holiday events and all activities on public space. We operate the Visitor Center, now closed, and do marketing for the City of Lancaster. It's a fun, creative job, and even in shutdown, helps us feel connected to the city, business owners and residents.
If you ask, Sadie, my 6-month-old, I bet she'd say we never skipped a beat. To her, it's like extended maternity leave…except now, everyone else is home. She gives me a slobbery kiss if I lose my train of thought. She's smiley, content and loving every minute with all of us. Thriving, really. That's what drives me. After two coffees.
---
By Annie Weeks
Director
City of Lancaster Office of Promotion
(Written while applying sunscreen, making eggs and burning toast).
---
About the Author:
Annie Weeks lives and works in the City of Lancaster and is raising two young girls. With any free time, she can be found running to balance out feelings, or stress eating animal crackers.