We The People First Friday "Acts of Welcome"
May 6, 2022 @ 6:00 pm

-

8:00 pm

Free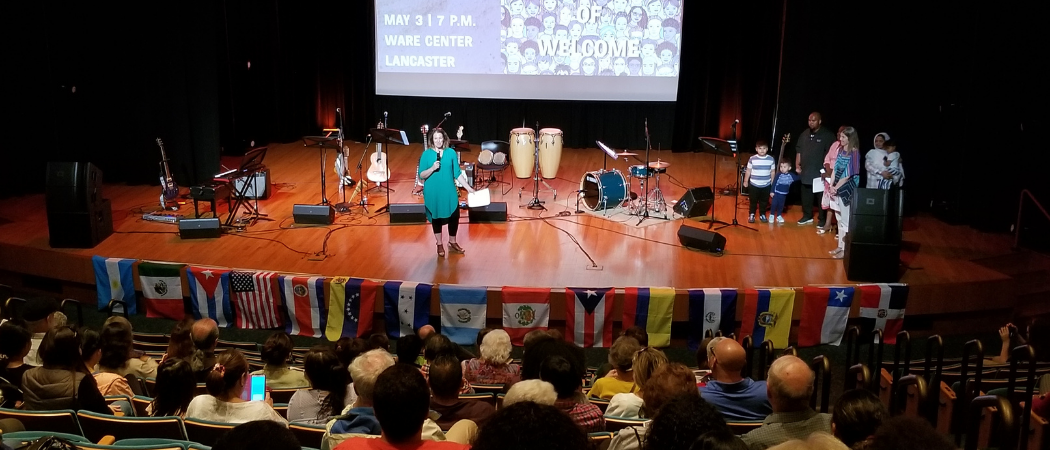 In partnership with Church World Service and the Pennsylvania Migrant Education Program, the Arts at Millersville University's annual celebration of the artistry of Lancaster's refugee and immigrant community.  
On Stage: "Acts of Welcome"
6:30 P.M. 
The performance in Steinman Hall will commence with a special appearance by the St. James Episcopal Church Choir in a musical tribute to Ukraine, followed by traditional song and dance spanning the globe plus spoken-word pieces about the refugee/immigrant experience by the following.  Contributors include Anna Grutman (Ukraine), Joel Makeci (Democratic Republic of the Congo), Ever Sandoval (Peru), Aashika Adhikari & Aayusha Chapagai (Nepal), Sami Subedi (Nepal), Apsara Uprety (Nepal), Amer Al Fayadh (Iraq), Ahmed Ahmed (Chad).
 
In Regitz Gallery: "Undercover Artists Uncovered" curated by Kristin Hill 
Opening Reception | 6-8 P.M. 
On display May 6 through 27  
 
Looking in our community beyond gallery walls, we discover artists of great talent and dedication,  Undercover Artists Uncovered.  
In the Lyet Lobby: Claudia Rojas –  "Mementos y derivas"
Opening Reception | 6-8 P.M. 
On display May 6 through 27  
Cuban-born artist, Claudia Rojas, uses different pieces and techniques to reflect on the drifting perceptions that build our sense of identity. A life she no longer sees outside of memories —after leaving it behind on the island—, new and old labels that facilitate and restrict how she is perceived, a vagabond sense of belonging and thinking in English instead of feeling in Spanish; these are all part of what it means to be ___. Much as the title itself, "Mementos y derivas" is at the same time Cuban, American, Spanish, English and everything in between, with multiple definitions
depending on the context used to derive meaning; all of its parts true, but never the whole story.

List Your Event
Hosting a public event in Lancaster City? Submit your event to appear in our event calendar.
Submit an Event