Soak In The Summer Flow
August 17, 2021
@
7:30 pm
-
8:30 pm
August 17, 2021
@
7:30 pm
–
8:30 pm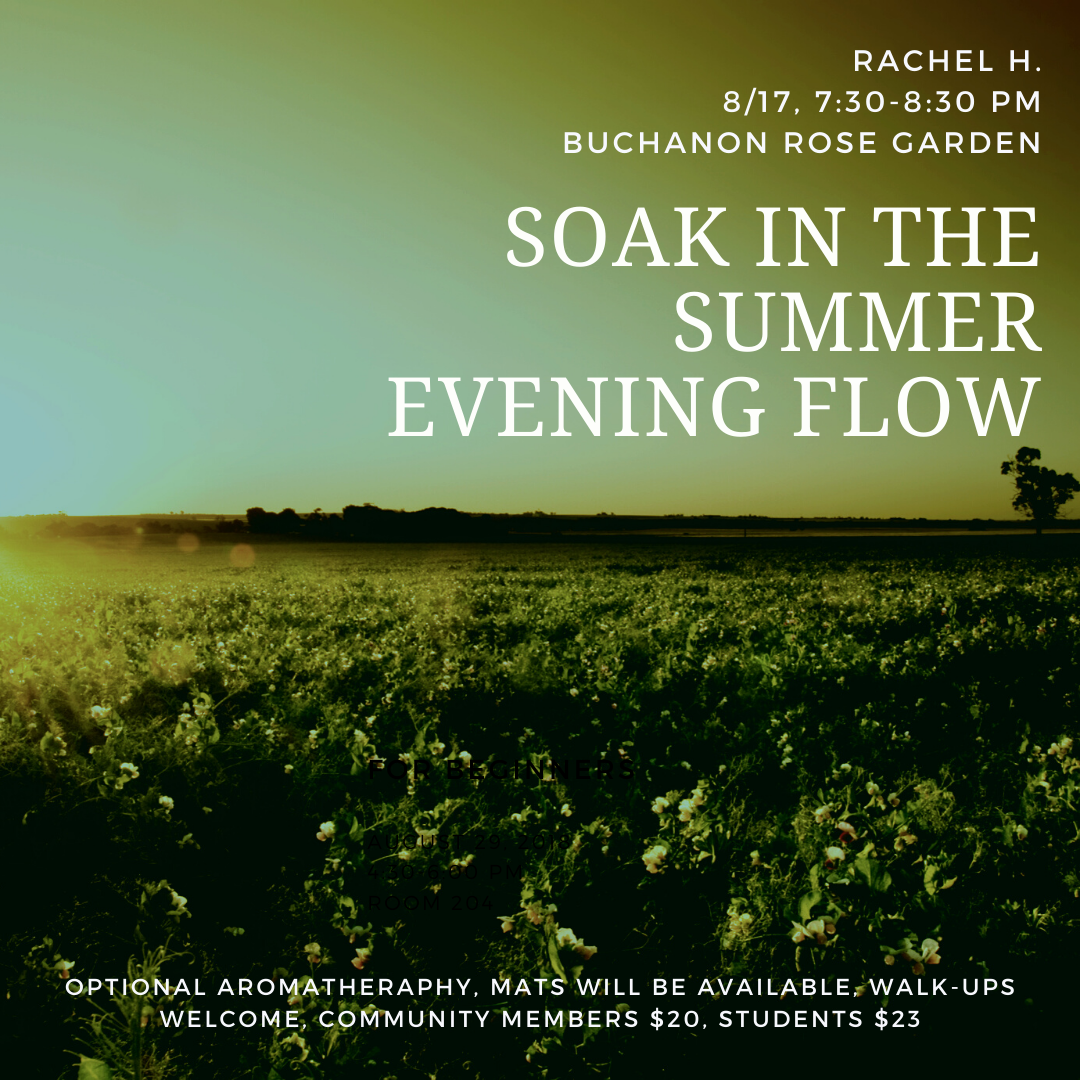 JOIN WEST END YOGA INSTRUCTOR RACHEL HEISEY FOR THIS SPECIAL ONE-TIME EVENT WHERE YOU WILL PRACTICE OUTSIDE AND GIVE YOUR WHOLE BODY & SPIRIT A SPACE TO CONNECT WITH THE SUMMER BEFORE THE SHORT SEASON PASSES.
Rachel will guide you through a vinyasa style flow filled with mindful prompts to help you appreciate all that your Summer has been, soak in the very evening that you practice in, and set an intention for the remaining warm days ahead. Wash with an optional aromatherapy accompaniment for your practice.
Summer can be one of the most exciting seasons on many of our calendars, and for most of us, it can fly by with busy schedules, vacations, and filled days turning into Fall before we really got to "soak it in."
If that sounds like you, and you love the beauty of the season – the longer hours, the beautiful sunsets, the feeling of the grass on your feet, the warmth, and ability to gently walk outside without fear of the cold, then this class is a gift you can give to yourself to slow Summer down for one evening.
WALK AWAY WITH A LASTING MEMORY OF THIS YEAR'S SUMMER IN YOUR LIFE.
We hope you can join us for this special one time class to finish your Summer feeling refreshed, grateful, and present.
Located at the Buchanan Park Rose Garden on 8/17, 7:30-8:30 pm, Mats will be available, Walk-Ups Welcome, Community Members $20, Students $23
This class will be held at the Rose Garden in Buchanan Park in Lancaster.
We will have several spare mats you may borrow if needed.
The rose garden is located along the Buchanan Ave. end of the park.
On street parking is available.
The best place to park is along Buchanan Ave. toward the corner at the southern side of Race Ave.
List Your Event
Hosting a public event in Lancaster City? Submit your event to appear in our event calendar.
Submit an Event