"Record Release": A collaborative exhibition by A Day in the Life Records and PCA&D's Center for Creative Exploration
April 2, 2021
@
11:00 am
-
7:00 pm
April 2, 2021
@
11:00 am
–
7:00 pm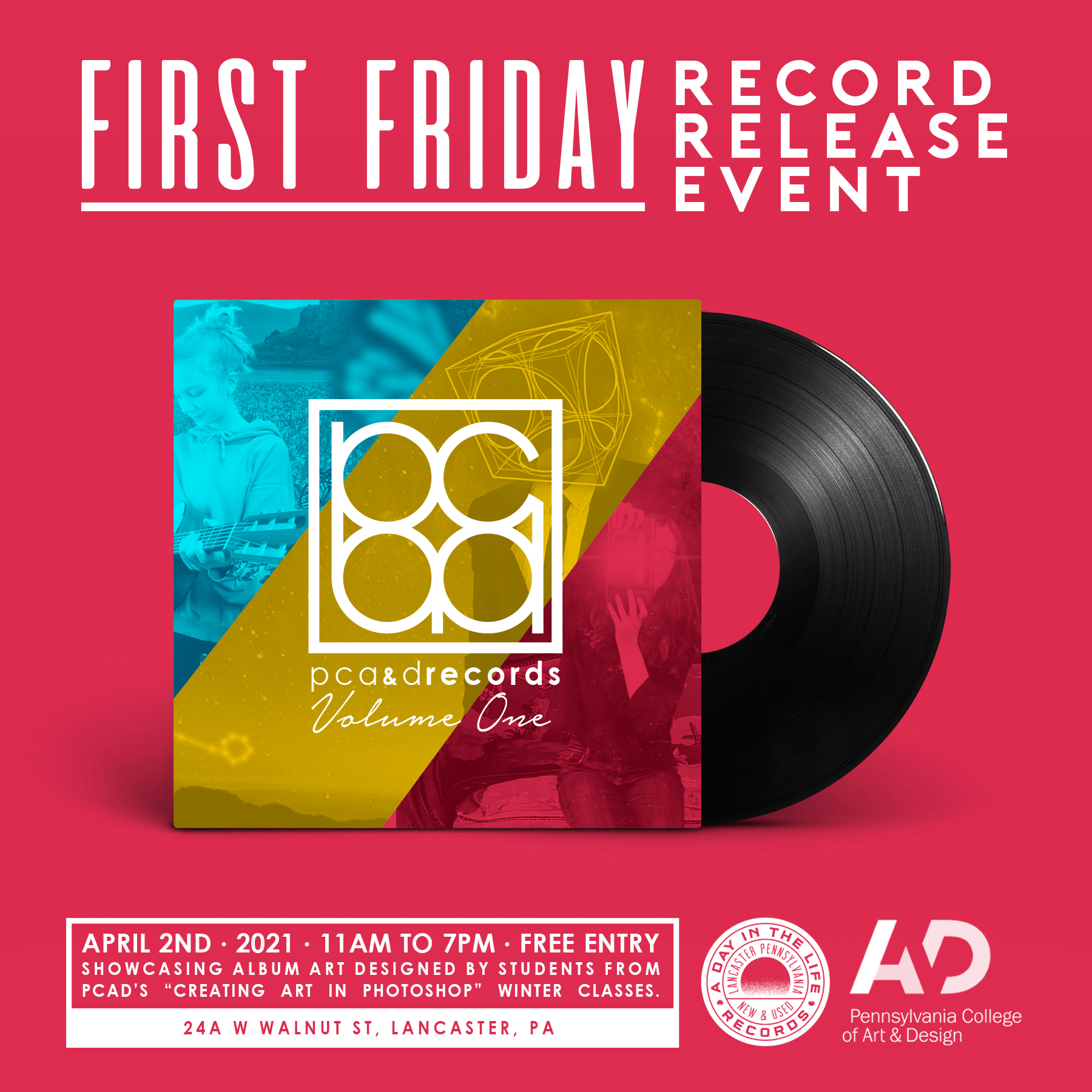 Artists from the Center for Creative Exploration's "Creating Art in Photoshop" Young Artist class will exhibit their work — full album cover designs, from photography to graphic design to production — for First Friday at A Day in the Life Records, 24A W. Walnut St., Lancaster. The exhibition will be on display April 2-17 during regular business hours (below).
"Creating Art in Photoshop" was open to Young Artists in grades 7-9, and taught by artist Adam Serrano, who specializes in graphic design, photo editing, and creative consulting. During the Winter Session class, Serrano used his passion for music and art to guide the class through the project's full range of production skills. The process allowed each student to focus on their own particular style while incorporating lessons in design principles and photo manipulation.
The album cover project, Serrano says, "was a great way to get them excited about the real-world applications of what a graphic design job could be."
Collaborating with PCA&D's Center for Creative Exploration on this exhibition was the perfect fit, says Daniel Flynn, co-owner of A Day in the Life Records. For many young music fans, he says, music often is simply something that gets downloaded — there's not a visual or physical component to it. Learning the connection between music and visuals, he says, gives them some insight into how music and art work together to influence popular culture and inspire changes.
Learn more and get a sneak peek: bit.ly/CCEDAY
HOURS:
Monday ~ 11am to 6 pm
Tuesday ~ Closed
Wednesday ~ Closed
Thursday ~ 11 am to 6 pm
Friday ~ 11 am to 7 pm
Saturday ~ 11 am to 6 pm
Sunday ~ noon to 5 pm
List Your Event
Hosting a public event in Lancaster City? Submit your event to appear in our event calendar.
Submit an Event