Monstro, works by James Brook & Jason Herr at curio.
October 7, 2022 @ 10:00 am

-

8:00 pm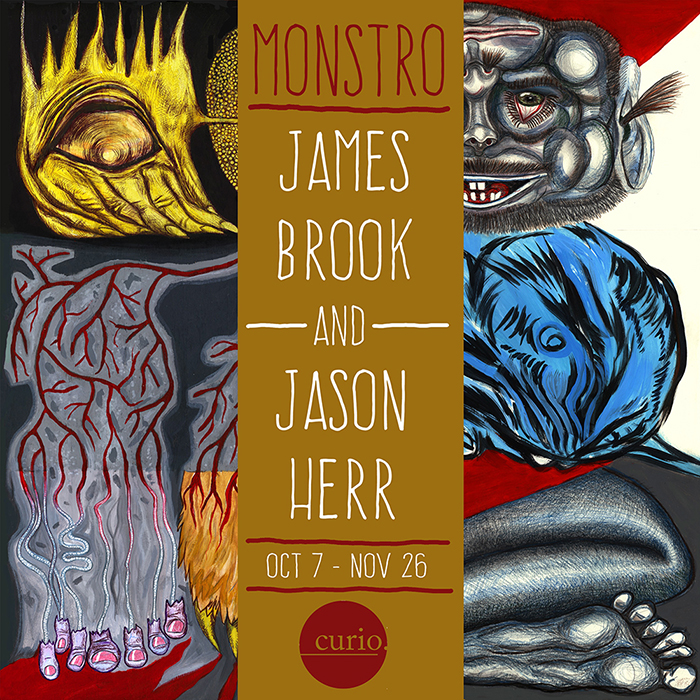 The Exquisite Corpse or "Cadavre Exquis" was a sort of creative game developed in the 1920's by artists in Paris and most notably favored by the Surrealists. It is a familiar, sometimes goofy process of generating grotesque characters where the surface is divided into thirds, then each section is produced usually covertly by someone then passed to the next person until completed. Revealing a single composition of potentially disjointed ideas or visual representations. It's this game that brought artists James Brook & Jason Herr together. "We became friends because of the type of artwork we make. With a similar interest in outsider artists, naive thrift store finds and things with a cartoonish, B-movie aesthetic, a collaboration seemed inevitable." Originally begun as a way to build a friendship, the Exquisite Corpse became a more serious form of artist's at play. A thoughtful, deeper understanding took shape and that allowed no room for judgment in subject matter or medium, and simply accepted their contributions as an opportunity for surprise and celebration.
List Your Event
Hosting a public event in Lancaster City? Submit your event to appear in our event calendar.
Submit an Event