Megan Zettlemoyer: Living Ink | Curio.
March 5, 2021
@
10:00 am
-
8:00 pm
March 5, 2021
@
10:00 am
–
8:00 pm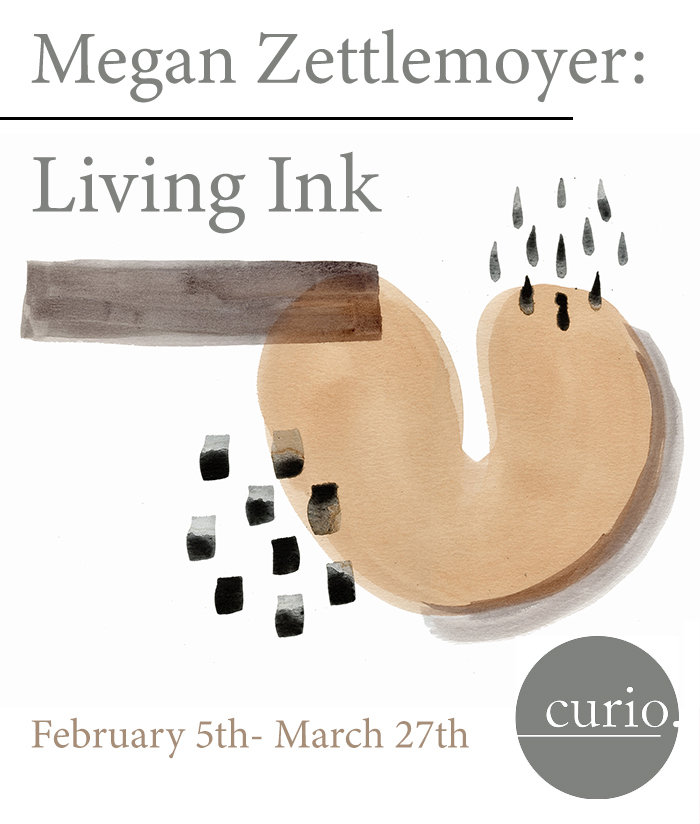 Megan Zettlemoyer has built a life of design, looking at each day as an opportunity for creation. New directions for her to explore are found laid out on the concrete grid of city sidewalks or in well worn meander of woodland trails. The desire to establish meaningful connection between this passion for design and her love of the natural world opened the path that led her to these new paintings.
"In each piece of this series I have paired a structured element with sporadic, energetic bursts which symbolize the balance of serenity in nature with the often frenetic bustle of the city. Demonstrating the multiple facets of humanity's relationship with nature, expressed by the overall connectedness with a slight underlying tension, is a central theme of each piece."
The importance of making her ink from locally foraged ingredients and materials has played a critical role in their creation. Each of the inks utilized in these paintings has been personally created from scratch. Seasonally available natural resources such as berries, nuts, seeds, burnt sticks, pine cones, flowers and spices typically serve as the base recipe. As the inks are created fresh and contain only natural preservatives, some of them have shown, over time, to alter in appearance when exposed to air and/or light. As some of the raw ingredients are naturally more acidic it is possible that they could eventually break down the paper. All of these conditions are part of the ongoing exploration of the ink-making techniques and are considered to be equally essential to creating each unique "living" piece of art.
List Your Event
Hosting a public event in Lancaster City? Submit your event to appear in our event calendar.
Submit an Event