Laura Watt: Wading in the Water Lilies
October 1, 2021
@
10:00 am
-
October 8, 2021
@
7:00 pm
October 1, 2021
@
10:00 am
–
October 8, 2021
@
7:00 pm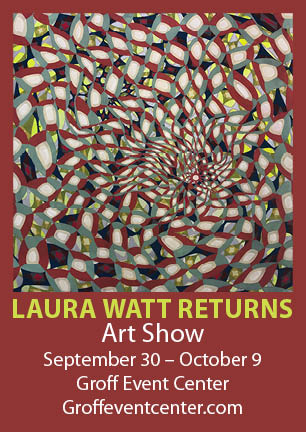 LAURA WATT RETURNS! Wading in the Water Lilies Exhibit at Groff Event Center. The venue location is 234 West Orange Street, Lancaster, PA 17602.
Groff Event Center is pleased to announce an exhibition of new and recent paintings by Lancaster native Laura Watt. Wading in the Water Lilies Art Work will be on exhibit from September 30, 2021, thru October 8, 2021, at the Groff Event Center – 10 am – 4 pm, or by appt.
This will be the first time Watt, who currently lives in Garrison, NY, has shown paintings in Lancaster since her 2009 show at the Phillips Museum, Franklin and Marshall College. The exhibition includes a new suite of triptych paintings, the "water lilies," and recent paintings that continue Watt's use of geometry and pattern structure.
Groff Event Center is thrilled and honored to host Laura's paintings in our space. You do not want to miss Laura Watt's one-of-a-kind exhibition. She's talented, intelligent, and a pure gem!
Laura Watt received a BFA from Bennington College and her MFA from Yale University. Watt's most recent exhibition, "Hide and Seek," at David Richard Gallery, NY NY.
September 30, 2021 is a private showing, but October 1st – 9th is open to the public. We highly encourage you to RSVP.
Opening night will be packed with music, cocktails, and more. This showcase will create an experience leaving the viewers reflecting on the water lily; and how the passage of time is marked within these environs.
Please contact us with any questions or concerns. Call (717) 509-7780 or Email grace@thegroffs.com.
List Your Event
Hosting a public event in Lancaster City? Submit your event to appear in our event calendar.
Submit an Event