Lancaster International Piano Festival Concert 02/04
February 4, 2022
@
7:30 pm
-
9:00 pm
February 4, 2022
@
7:30 pm
–
9:00 pm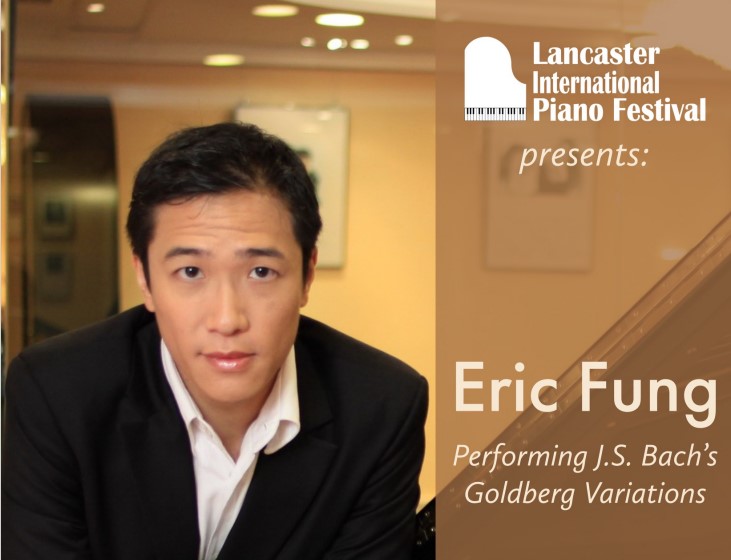 Winter Concert
Eric Fung, piano
Dr. Eric Fung
Biography
Dr. Eric Fung was the second-prize ex aequo winner at the Thirteenth International Johann Sebastian Bach Competition in Leipzig, Germany. He was also awarded first prize at the Corpus Christi Young Artists International Competition (1996), second prize at St. Louis Symphony Concerto Competition (1997), and first prize at the Juilliard School Concerto Competition (2000).
As a performer, Dr. Fung has collaborated with the Juilliard Orchestra, Hong Kong Philharmonic Orchestra, Middle Germany Chamber Orchestra, Manhattan Chamber Orchestra, Hershey Symphony Orchestra, Lebanon Valley College Orchestra, the Central Pennsylvania Symphony Orchestra, and the Hong Kong Polytechnic University Orchestra. He has appeared as soloist in international music festivals, such as the Israel Festival in Jerusalem, European Piano Forum in Berlin (Germany), the Puigcerda Music Festival (Spain), the Philadelphia Bach Festival, the Kamerman Piano Series in Pensacola (Florida), the Lancaster International Piano Festival, and the Hong Kong Arts Festival. His orchestra debut at Lincoln Center with the Juilliard Orchestra under the baton of Maestro Otto Werner Miller and his Carnegie Hall solo debut won rave reviews from the New York Times and New York Concert Review, respectively. Anthony Tommasini praised his pianism for being "mature, refined, and elegant." Harris Goldsmith described him as "a pianist with a musical persona akin to Rudolph Serkin" and praised his performance for having "vibrant vitality… unflappable logic, flexibilities in nuances and requisite lyricism." The Hong Kong Economic Review commended him for being "unique among the contemporary Chinese pianists, for the aesthetic of his music can be traced back to the study and passion for Bach's works."
Prior to studying in the United States, Eric Fung received his formal music training from the pre-college program of the Hong Kong Academy for Performing Arts. At age 15, he was awarded the Piano Performance Diploma of the Associated Board of the Royal School of Music in London. In 1993, he received scholarships to continue his study at the Eastman School of Music where he received his Bachelor of Music and Master of Music degrees in Piano Performance, and a Master of Arts degree in Music Theory Pedagogy. In 2005, he graduated with a Doctor of Musical Arts degree in Piano Performance from the Juilliard School where he was a C. V. Starr Doctoral Fellow.
His major piano teachers include Eva Lue, Natalya Antonova, Martin Canin, and Oxana Yablonskaya. He was coached by such prominent piano pedagogues as Boris Berman, Christopher Elton, Claude Frank, and Peter Frankl in masterclasses and international music festivals. He also studied analysis with Matthew Brown, Steven Laitz, and Carl Schachter.
Dr. Fung is the Carmean Endowed Professor of Music (Piano) at Lebanon Valley College in Pennsylvania. As an educator, he has conducted masterclasses at higher education institutions and professional organizations, including Jerusalem Academy of Music and Dance in Israel, Sichuan Conservatory of Music (Chengdu, China), Xinghai Conservatory of Music (Guangzhou, China), National Tainan University (Taiwan), National Chaio Tung University (Taiwan), Soochow University (Taiwan), East Tennessee State University, Hope College (Michigan), University of Illinois at Carbondale, Hong Kong Baptist University, the Chinese University of Hong Kong, the Hong Kong Academy for Performing Arts, and the Tom Lee Music Foundation. He also receives invitation regularly to adjudicate competitions, such as the Lancaster Symphony (PA) Concerto Competition, the Greater Princeton (NJ) Steinway Society Scholarship Competition, the New Jersey Music Teachers Association Piano Competition, and MTNA Competition.
Eric Fung is a Steinway Artist.
List Your Event
Hosting a public event in Lancaster City? Submit your event to appear in our event calendar.
Submit an Event