ECHO ECHO at curio.
July 1, 2022 @ 10:00 am

-

8:00 pm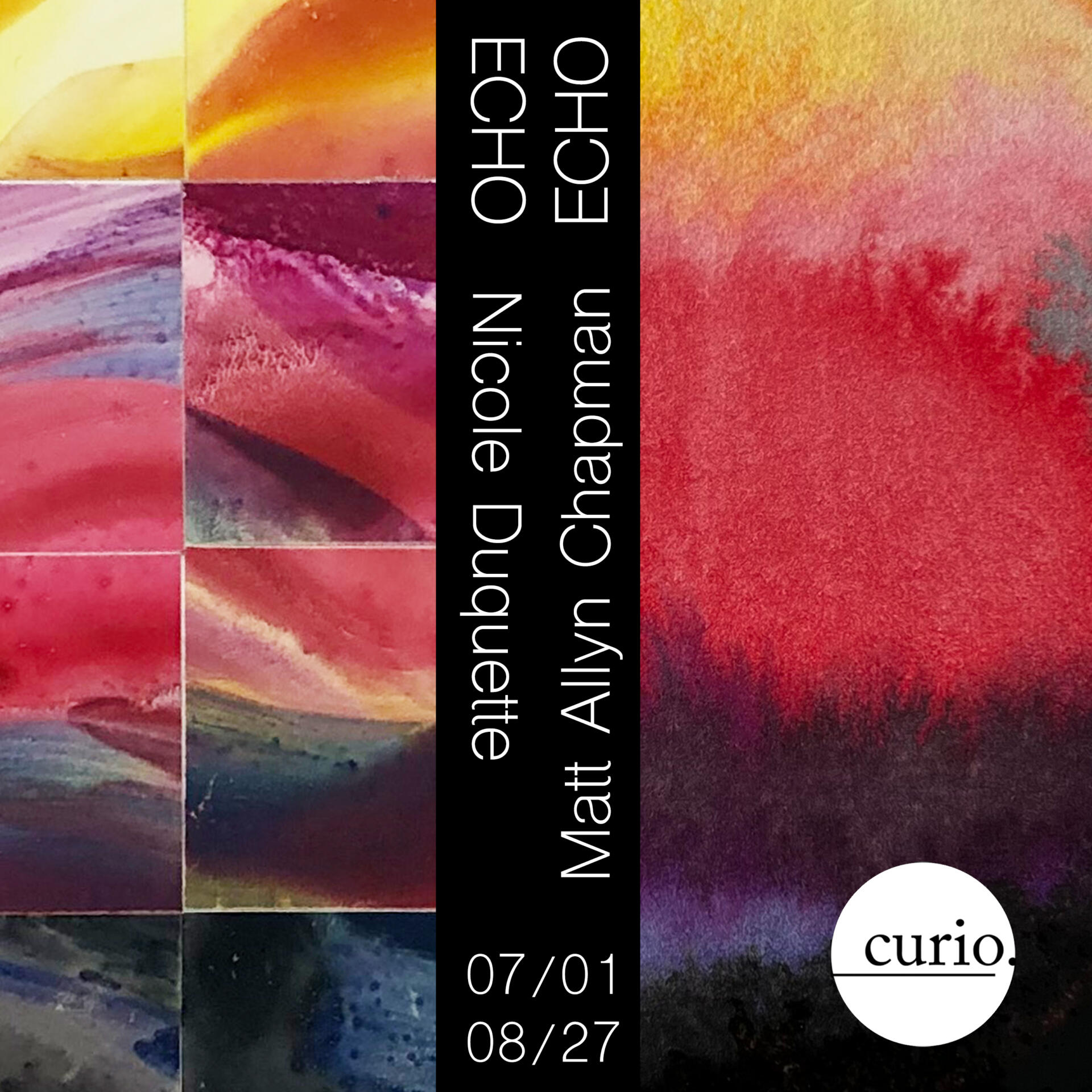 An Echo is described as a close parallel or repetition of an idea. Formed from a desire to create artworks independently, then come together and select individuals to be responded to, or "echoed", by the other, the concept for an exhibition took shape. Bringing to the forefront the artist's individual sensibilities, while presenting artworks that are connected in their aesthetics. Similar palettes, mark making, compositions and atmospheres are created when the works are brought together.
For Artists Nicole Duquette and Matt Allyn Chapman, collaboration is a large part of their relationship. Partners in life, owning and operating curio. while also sharing a studio, conversation and shared decision making happens everyday. Particularly around artmaking and the creative process.
Nicole's work starts with swirling color fields of watercolor and gouache deep with organic motion, and texture. Breaking down and dividing these fields into smaller, uniform pieces comes next before reorganizing them into their final structure. The resulting piece is reminiscent of a tile puzzle, or mosaic. Taking on the weight of landscape, the fluidity of seascape, or in some- the ethereal feeling of a dreamscape. Each square is an encapsulated universe by itself, full of life and substance. The reorganization provides opportunity for thoughtful artistic contemplation, exciting color relationships, and textural fracturing.
Matt finds endless possibility in the boundaries of a circular form. Creating what he calls an "empty circle" of clean water before introducing inks and various fluid media into them. The surface tension holds the form while the materials interact with one another. Sometimes effortless while other times more volatile the circle fills as colors meet, form boundaries, and overtake one another. Initially an exploration in relinquishing control, the finished works have moved into a place of considered balance. Understanding when to impose his will, and the importance of letting the inks be as they are has become integral to their success.
When responding to their creations, both Nicole and Matt understand what they wish to keep about themselves and what they are looking to celebrate about each other. The pieces to an extent become linked, paired by one's initial statement and the other's echo.
List Your Event
Hosting a public event in Lancaster City? Submit your event to appear in our event calendar.
Submit an Event