curio. Pocket Art Swap: Night & Day
April 2, 2021
@
10:00 am
-
8:00 pm
April 2, 2021
@
10:00 am
–
8:00 pm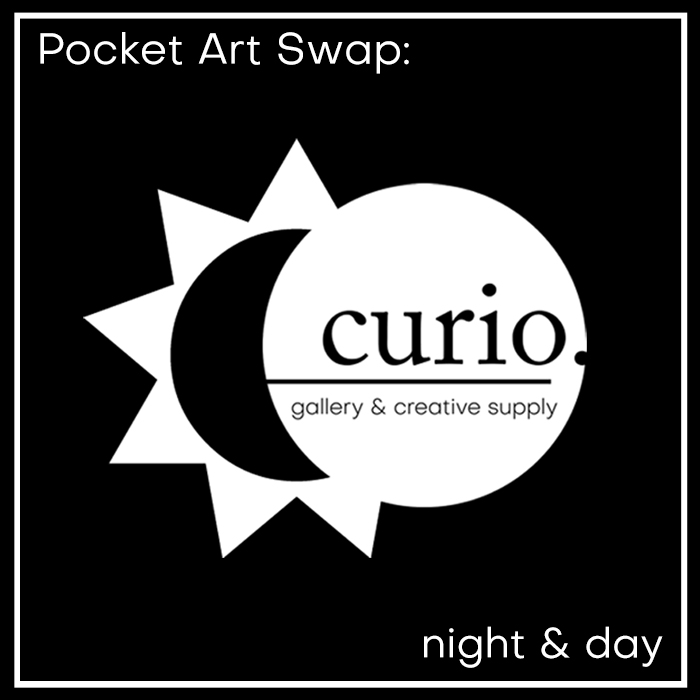 On view for the month of April, the Pocket Art Swap: Night & Day exhibition features 240 miniature artworks from 16 local artists, marking the third installment of this event.
The phrase "as different as Night and Day" is an age-old expression of opposition, yet forever linked as one could not exist without the other. The understanding of difference or inversion has long been a source of inspiration for great thinkers. Writers, philosophers, scientists, and visual artists throughout history have been moved to explore contrasting absolutes and revel in their independence as well as the spaces between them. Often highlighting their reliance on one another through their differences. Continuing this exploration, we tasked each participant with filling a miniature 15 page pad with original artworks centered around the central theme of Night & Day. Completely open to interpretation, and with a creative window of a month and half, the results are exciting!
Curio. owners Nicole Duquette and Matt Chapman first developed the pocket art swap in 2019. Both wanted to create a way to connect artists together and celebrate the individuality each of us hold in a unique and meaningful way. Utilizing a mini pad of paper measuring only 2.5"x3.75", each artist could fill their pages any way they saw fit. Culminating in a "pop up" style exhibition, the artists were asked to come together and share their creations. Each participant will receive a collection of each other's mini works to keep for themselves after the exhibition.
With the impact of the pandemic on our ability to hold events, the pop up exhibition felt too fleeting. The decision to bring the exhibition to the gallery walls and give it a longer span of time to be viewed feels not only more appropriate, but safer. Now more than ever the feeling of connection and community is paramount, curio. is proud to present these artists and their works.
We are welcoming 6 guests at one time, masks required.
List Your Event
Hosting a public event in Lancaster City? Submit your event to appear in our event calendar.
Submit an Event