Botanic Panic by Matty Geez at curio.
October 1, 2021
@
9:30 am
-
8:00 pm
October 1, 2021
@
9:30 am
–
8:00 pm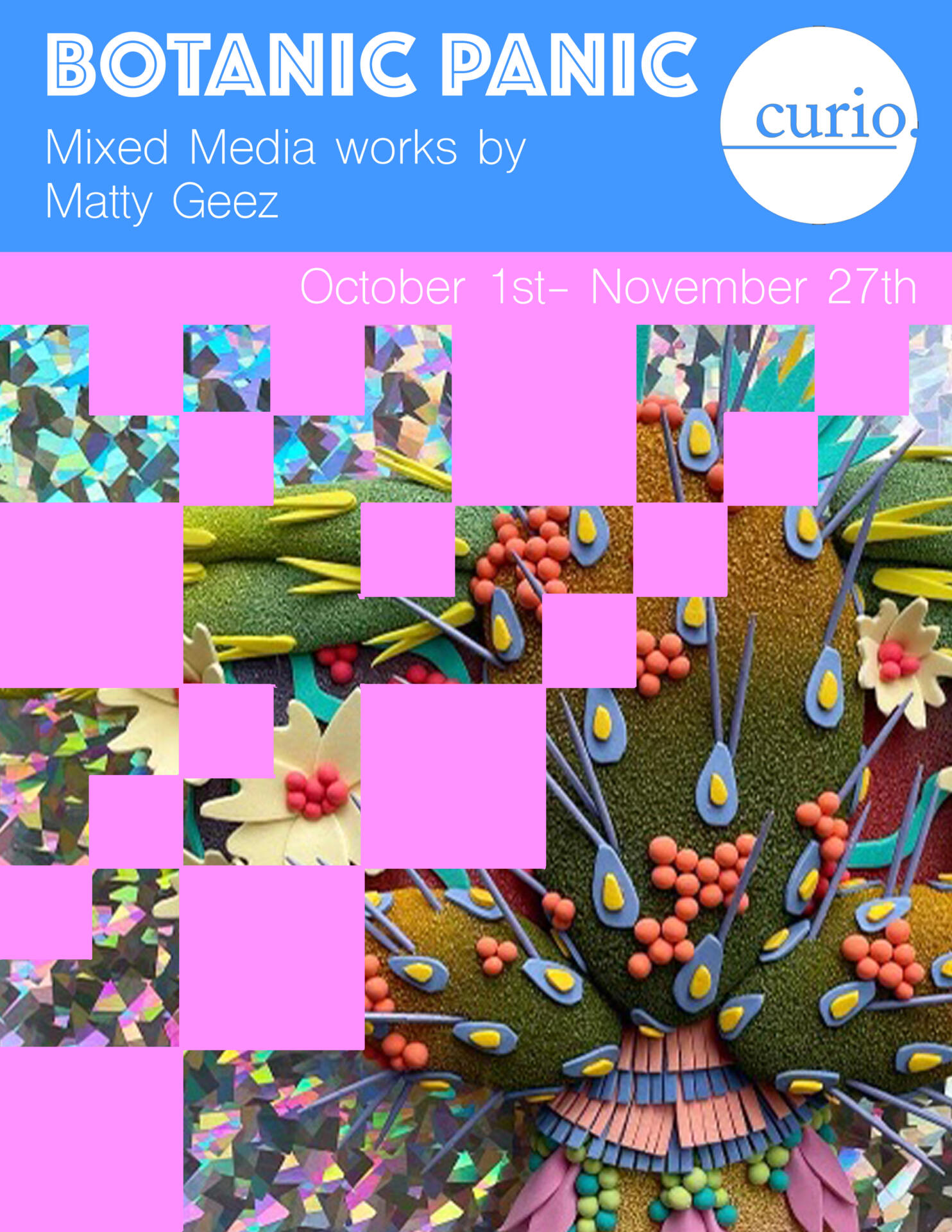 Curio. is excited to bring you the works of Matty Geez. Working in the realm of soft sculpture, his pieces are three dimensional but maintain a kinship to two dimensional works. Some are truly free standing while others are meant to be displayed on a wall or housed in a frame even though their surface has a relief quality. These works verge on the edge of the fantastic while holding onto the familiar botanical shapes we know. Juxtaposition of hard and soft along with the use of color explore his interest in gender identities. "I like making work that plays with masculinity and femininity through the use of texture and flamboyant color.
Geez's mask-like cactus clusters are formed of foam along with other synthetic adornments and yet are able to take on facial structures. Inspired by the vegetation/portrait paintings of Guiseppe Arcimboldo, recognizable characteristics of portraiture emerge the longer you look. The works on paper use more traditional media along with flat layers of brightly colored foam to build topographical images of succulents and other flora. Hung on the wall as you would a scroll, their ability to seize your attention is powerful.
Standing tall, a large cactus along with a cluster of smaller pups seem as if they could be at home in the Sonoran desert or on set of a Sci-Fi film, though it exists comfortably in the gallery as an object of contemplation and conversation. Calling into question, among other things, the relationship we have with the natural world and our interest in bringing exotic species into domestic spaces. Organic in their creation each piece is a tactile adventure into a world of vivid color, amplified texture, and contradictory invitations to touch, but don't touch.
Geez is a Lancaster/Philadelphia based artist, a self proclaimed plant and cat dad (he swears this has been the case before a global pandemic kept everyone inside.) Working from a home studio, his process involves sketching a concept before moving into constructing his pieces. Recycled cardboard, upholstery foam, craft foam and spray paints bring his concepts to life in a tangible way.
List Your Event
Hosting a public event in Lancaster City? Submit your event to appear in our event calendar.
Submit an Event