Ayurveda & You
October 24, 2021 @ 2:00 pm

-

4:00 pm

$45.00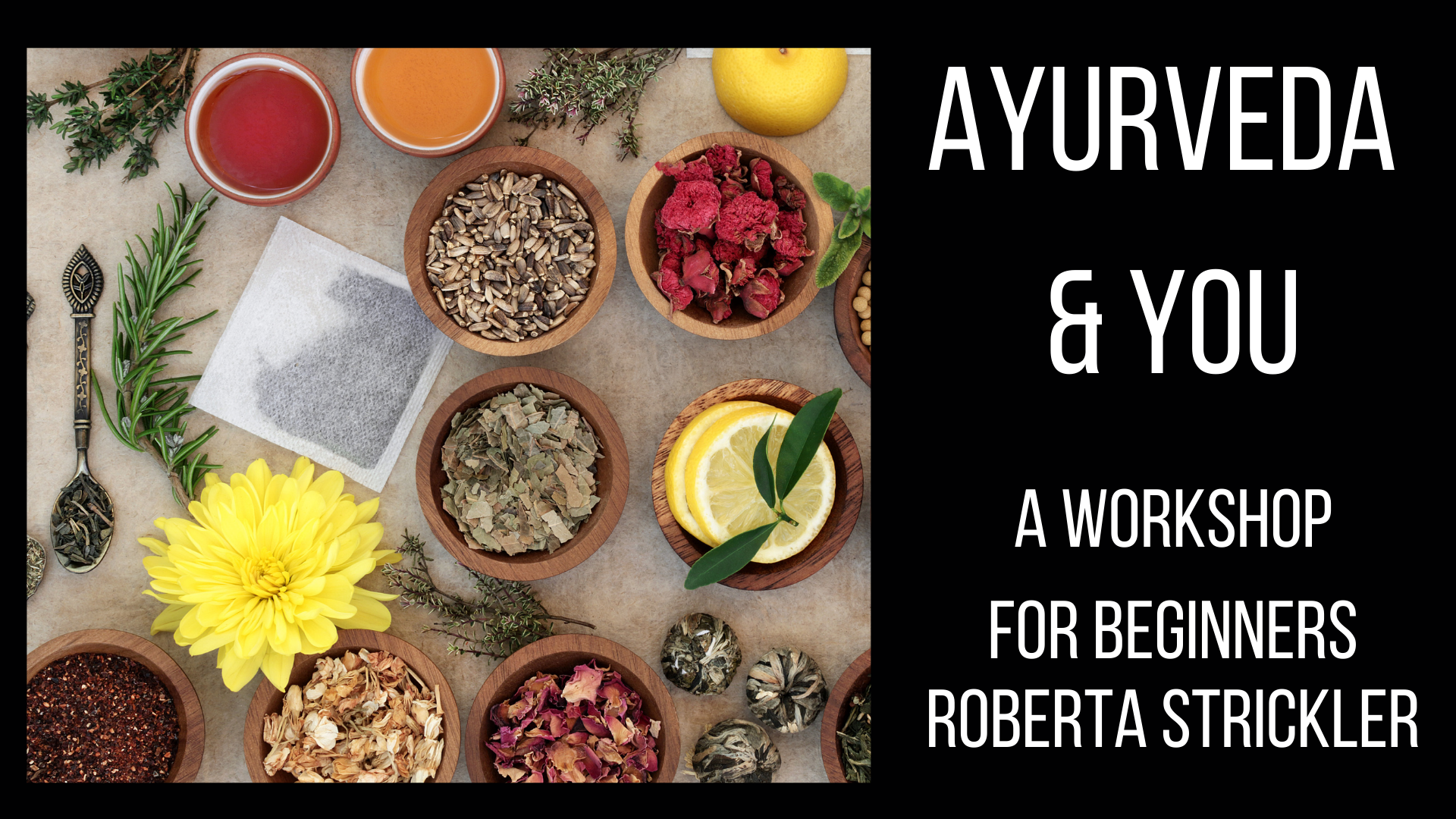 A BEGINNER'S WORKSHOP WITH ROBERTA STRICKLER
AYURVEDA IS AN ANCIENT SYSTEM OF MEDICINE. IT HELPS US ESTABLISH A HEALTHY LIFESTYLE, USING FOOD AND YOGIC PRACTICES TO STAY BALANCED IN A CHAOTIC WORLD.
ENROLL HERE
Perhaps you are exploring Ayurveda for the first time. Or you may have a basic understanding of Ayurveda and the three-part dosa system on which both healthy and healing lifestyle choices are based.
This two-hour workshop will include explanations of the basics and introduce specific cues that apply to each person's unique makeup.
Because the language of Ayurveda is non-threatening, this workshop is ideal for including your partner, your friend, your spouse, to a world of good health and a lifestyle that includes the yoga you love – but does not insist on doing poses.
Please register by Friday evening for this Sunday afternoon workshop to allow us to prepare better ahead of time. If you aren't sure of your dosa (constitution type), Roberta encourages you to take this Dosa Quiz to get a foundational understanding of your makeup, even before you come to the workshop.
Students $45, Community Members $40
Meet Roberta!
Roberta seeks the unity of Yoga, Ayurveda, and Meditation as a lifestyle. In poses she works toward each person's alignment for posture and balance. Each class cites a theme and some sort of lesson. Poses develop in sequence so there is always something new. Flow is slow. Be prepared for fun and learning.
Her yoga certifications came from Kripalu in 1995, then 13 years studying Anusara, and now Iyengar yoga. She cites Doug Keller as a longtime teacher of Yoga As Therapy and the Philosophy of Yoga. Roberta taught yoga as part of a Mindfulness-Based Stress Reduction team for 6 years. She studied Ayurveda at Himalayan Institute for 20 years and received an Ayurveda Counselor certificate from Kripalu in 2014.
List Your Event
Hosting a public event in Lancaster City? Submit your event to appear in our event calendar.
Submit an Event