A Contemplative Suffering: A guided exhibition of contemplative art
April 2, 2021
@
6:00 pm
-
9:00 pm
April 2, 2021
@
6:00 pm
–
9:00 pm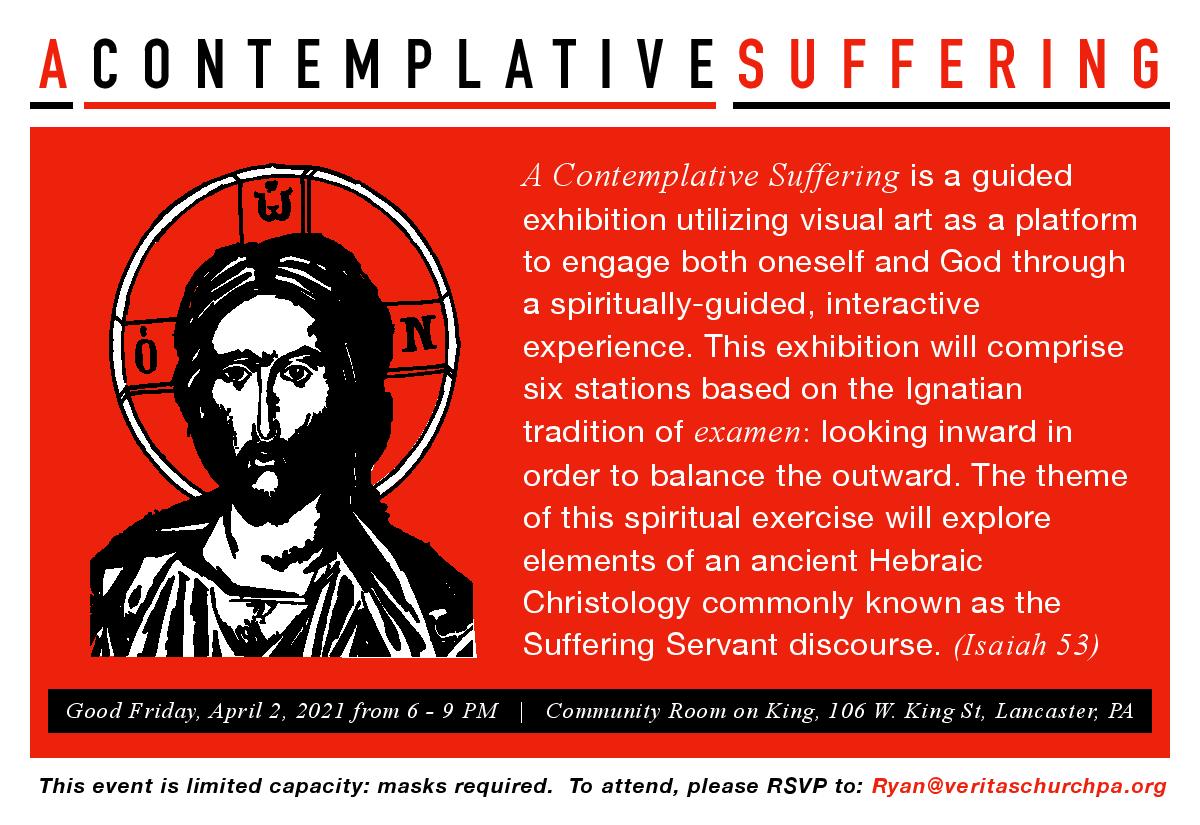 In partnership with the Veritas Community, the Community Room on King will host A Contemplative Suffering: A guided exhibition of contemplative art, featuring Daniel Buffenmeyer, on Good Friday April 2.
A Contemplative Suffering is a guided exhibition utilizing visual art as a platform to engage both oneself and God through a spiritually-guided, interactive experience. This exhibition will comprise six stations based on the Ignatian tradition of examen: looking inward in order to balance the outward. The theme of this spiritual exercise will explore elements of an ancient Hebraic Christology commonly known as the Suffering Servant discourse.
Daniel Buffenmeyer is a faith-based, visual artist who explores contemplative Christian themes. He currently resides in Lebanon, Pennsylvania, where he creates his artwork in a small studio in the countryside. Daniel earned a BFA in Printmaking from Temple University's Tyler School of Art in Philadelphia, and is currently enrolled in seminary seeking accreditation in spiritual direction.
We ask for you to sign up for a time slot in order to experience this guided exhibition. Time slots are in 10 minute increments running from 6:00 PM till 8:40 PM. Sign up sheet can be found here:https://docs.google.com/document/d/1hjdYeR0y_Gh2mRswy1J1n24rcbC3LodSkAelNG56Gv4/edit?fbclid=IwAR1kEG06IG9kq4c4twXZsjgo4j17QjuJdLZ8aKLu_YvNi0A0tZgPUy4GFw8
COVID protocols that will be taken that night include:
1. Limiting the number of people in the space at one time to no more than 20.
2. Masks must be worn in the space.
3. Hand Sanitizer is available.
4. Our air purifier will be running the entire evening.
Join us for this contemplative art show.
List Your Event
Hosting a public event in Lancaster City? Submit your event to appear in our event calendar.
Submit an Event