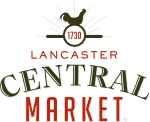 Variety of flowers at Central Market
Nelson and Rose Rohrer are the fourth generation to live and grow flowers on their farm just outside Lancaster City. They have been selling flowers at Central Market for about seven years. They can supply flowers for all kinds of occasions from a single bouquet to parties and weddings. The variety of flowers will stimulate all of your senses from the brilliant colors that explode across the stand to the wild flower fragrance that embraces you as you pass by.
Rose enjoys meeting all her market family and friends every market day. She has bouquets ready to pick up or you may choose from the large variety of loose flowers and make your own special arrangement. Nothing says "I appreciate you" like a hand-picked bouquet of flowers.
The Rohrer's stand exudes certain warmth that is enjoyed by all even if you only wonder by as you stroll through market. A visit to see the bounty of farm fresh flowers is worth the trip to be sure. The varieties change throughout the year as growing seasons come and go for the various types of flowers. Each season brings its own brilliance with the change in color and texture. The excitement of anticipating what new flower is coming into season is always something to look forward to.
More Lancaster City

Shopping