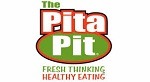 Pitas for breakfast, lunch and dinner
Burned out on greasy burgers and pizzas, and bottomed out on subs? Then The Pita Pit is the place
to be!
We are founded on the idea that people want an exciting and healthy alternative to fast food restaurants – a place with great-tasting food that's served fresh, but still fast.
A healthier vision – So we decided to ditch all the heavy breads and buns along with the unwanted carbohydrates and fats that today's health-conscious consumers are trying to avoid, and instead offer you scrumptious treats that are fresh and healthy.